These are the four favourite things that the guests at Riad el Zohar like to see. They are in no particular order. All are easy to reach on foot, especially from el Zohar.
The Secret Garden
Situated in Mouassine district, The Secret Garden was started at the end of the 16th century but was allowed to fall into disrepair & its buildings destroyed or derelict, with shanty buildings on site. The garden was recently restored by two Italian businessmen and the gardens planned and planted by Tom Stuart-Smith the well-known English gardener. A great feature is the original layout of the water channels and basins.
Marrakech had piped underground fresh water 450 years ago, 300 years before London so it is a delight to see this astonishing ancient engineering explained! A must see is the two short videos right at the back of the complex. One shows the massive planning and work that went into this project and the other explains how the massive water engineering project worked throughout the City. This whole project is a delight and one of the favourite attractions for our guests.
There is also an excellent Café at Lunchtime.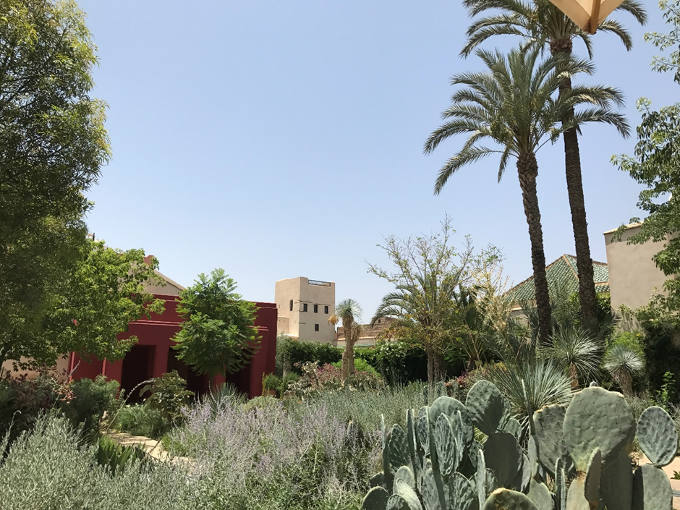 Museum of Photography
This private collection assembled by Patrick Manac'h & Hamid Mergani contains approximately 4500 photographs including a large collection of original glass plates from the period 1870-1950. It illustrates the history, culture, ethnology, daily life, and the people of this fascinating country.
The exhibition features hundreds of original photographs taken by the first photographers to visit Morocco, the first archaeological missions, photographs of Meyer, Flandrin, Veyre, Garaud and photographers of the 1930s. The exhibition is particularly rich in Berber history. They sell prints of a high quality.
Should you be lucky enough to bump into one of the two directors you will find them passionate about their subject and very, very knowledgeable. They have done a good job training their young Moroccan staff to give visitors a brief introduction to the museum. The museum has a panoramic terrace with stunning views across the city and a simple café serving good home cooking at very moderate prices.
It is located just past the Madrasa, 50 metres past the Foundouk Restaurant on the same street and the route is clearly signed with notices high above the street to stop the false guides stealing them!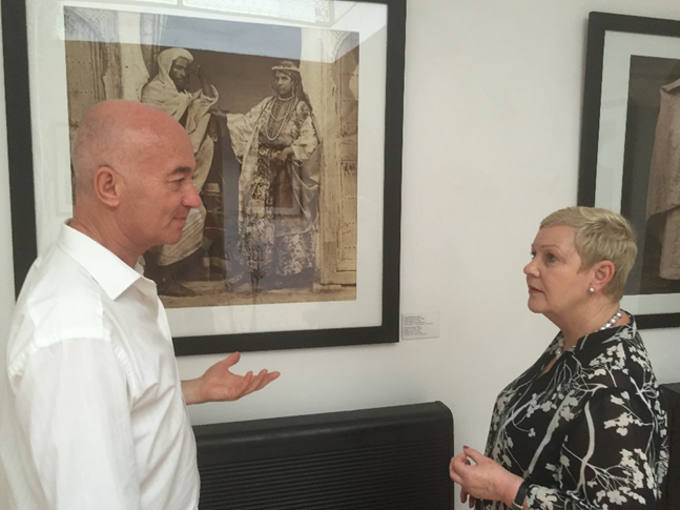 This is a lovely story. Our guest from New Zealand knew that her Great (5x) Grandfather was one of the very first photographers and famous for being Queen Victoria's Balmoral and Scotland official photographer, but was bowled over to see a photo by him taken in Morocco.
She had no idea his work encompassed Morocco. Mr Patrick went to great lengths to explain the history and then showed a further three prints in other parts of the museum.
Marjorelle Gardens
They were laid down in the 1930s by Father and son, French artists Louis and Jacques Marjorelle. The gardens were filled with exotic palms & cacti from all around the world and laid out with a series of paths interspersed with small streams and pools. It is a riot of natural colours set against the brilliant vivid Marjorelle blue used by Jacques Marjorelle and named after him.
Jacques Marjorelle's studio has been turned into a stunning small Museum of Berber Art containing traditional jewellery, embroidered fabric, some stunning doors and a section containing some Jacques Marjorelle lithographs.
This is best exhibition/Museum in Marrakech, if not in all Morocco.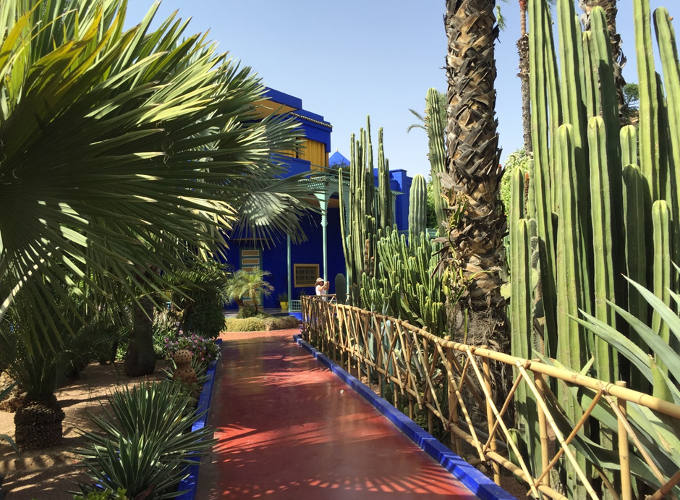 Yves Saint Laurent acquired the gardens in 1980 when they were tired and run down and all credit to the man, had them renovated to their current excellent condition exactly as laid out by the Marjorelles. He died in the summer of 2008 and his ashes are scattered in the gardens he loved. A simple memorial has just been erected.
The Souks
Not to be missed. The Souks are roughly organised by craft and product with Rue Mouassine to the West and Rue Semarine to the East. A good place to start is from Mouassine Fountain, just turn right and go through the arch and get lost.
The Marrakech souk is the biggest in Morocco, but will only take you 15 mins walking from top to bottom with no distractions. The souks are a maze of narrow streets populated with shop upon shop selling similar products per district. The deeper you get into the souks the slightly cheaper the price gets and negotiating gets slightly easier. At the Northern top of the souks you will still find artisans working at their crafts.
Negotiation is the order of the day and it would be foolish to pay the price asked, as it is not expected. As a rough rule of thumb for expensive items you should try for one-third to half of the asking price. For less expensive items half price would be fine. If you are genuinely interested in an item it is standard practice to ask the price, state it is too dear, which is an invitation to haggle, and walk away before being called back.
Go low, 25%, and work up for expensive items, 1000 Dirhams. For cheaper items, it is not worth spending too much time negotiating for a few pennies so a good tip is to go to half & stick to it, just keep repeating your price.
Many of the products are the same, so have a good walk round and check out a few starting prices before buying. Most guests usually make at least two visits on separate days to check out the souks. The Marrakchi are a more gentle and genial people than are found in some other parts of Morocco and are not pushy or persistent if confronted with a smile and a polite 'no thank you' and generally will back off good naturedly. Of course, they wish to sell, there is no social support as Europeans know it, and they have to fend for their families.
Marrakechi and the authorities now understand that aggressive selling discourages tourists and there is no future in it. There are even Tourist Police in plain clothes mingling with the visitors and that discourages bad behaviour. If you were unfortunate to experience bad behaviour just be firm and walk off, if your arm were grasped you should be offended and even in extreme situations threaten to go to the Tourist Police but that would be rare indeed.
Do remember that the vivid red conical goatskin lamp, which looks so good in the souks, doesn't always work well back home. Having said that there are some excellent bargains to be had at a fraction of European prices. Leather is particularly high quality & good value but negotiate very hard!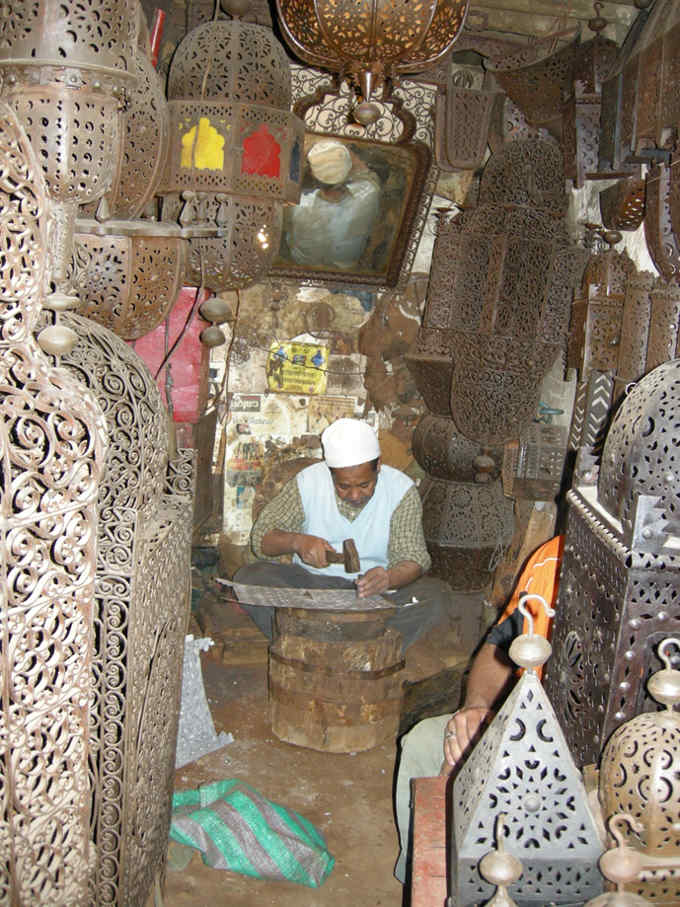 In the North of the souks there are many tiny workshops still patiently manufacturing by hand. Considering the lack of tools and facilities the quality is extremely high.
If you do get lost and get out your map you will be immediately surrounded by men and youths who want to help and really want to earn a few dirhams showing you back to the riad. There is no need. Ask a shopkeeper not a lad in the street. He will be polite, courteous, point the way, not leave his shop & not ask for money.
Use the free to download & free to use App 'Hipmarrakech' and you will never be lost!
---
For some suggested further reading on Marrakech see:
About Marrakech: things to do and see