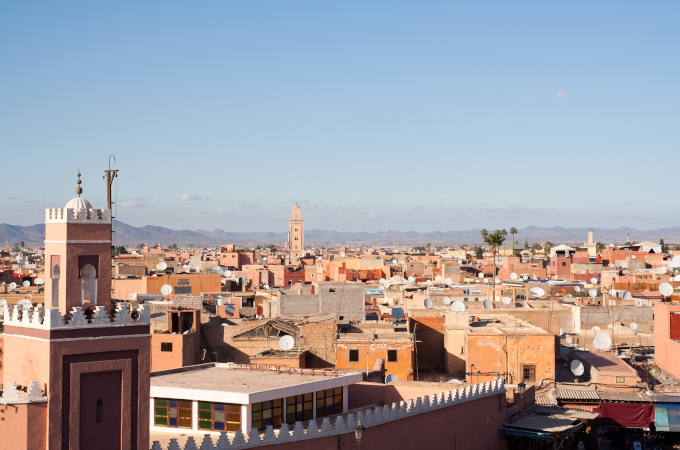 If you're looking for an exciting holiday this year, why not come to Marrakech? Not only is it a beautiful city with a unique culture and interesting history, but there is also so much to see and do throughout Marrakech. Whether you want to spend time exploring the souks or want to visit one of the many museums or more, there is something to do for everyone. There is also a huge amount of festivals and events throughout the year, from music festivals to marathons, art exhibitions and more. Here are just a few of the popular events taking place in Marrakech this year.
Marathon of Marrakech
Do you love to run? The 30th anniversary of the Marathon of Marrakech takes place this year on January the 27th. The 42km marathon is patronised by His Majesty King Mohammed VI, and takes place on a completely flat route starting out near Djemaa El Fna in the medina. It then takes runners out to the palmeraie (palm groves) and then back into the old ramparts of the city. Even if you're not a runner, the Marathon of Marrakech is a popular tourist event and draws tourists from all around the world.
Music and arts
Not a runner? Don't worry! Marrakech has plenty to offer if you don't like the sound of running a marathon. The city itself is home to a great number of music and arts festivals, such as the 1-54 art festival in February or the Marrakech International Film Festival. If you're interested in something a bit louder, there is also the Oasis Music Festival which will be returning to Marrakech this September for its 5th year, showcasing local and international talent in music, arts and culture.
Ramadan
Ramadan takes place from the 5th of May to the 4th of June 2019, and marks the month when the Qur'an was revealed to Mohammed as well as a number of historical events throughout the month. This is an annual event marked by daylight fasting and extra prayers. At the end of Ramadan, there is a huge three day feast known as Eid el-Fitr. Ramadan of course is not limited to Marrakech, but the end of Ramadan is also celebrated by special services outdoors including the celebratory feast and precessions through the streets.
Don't forget your accommodation!
Looking for somewhere to stay? Look no further than our luxurious Riad. Situated in the popular Mouassine district in the heart of the ancient Medina, our Riad is perfectly close to some of the most popular attractions and venues across Marrakech. We have a number of luxurious rooms available at fantastic prices, as well as a pool for you to cool off in between all those exciting events. As a beautifully refurbished historic building close to the souks and more, our Riad is a perfect place to experience a taste of culture and history in the heart of Marrakech. If you're interested, don't hesitate to get in touch with us today to make a booking.