ROAD WORKS UPDATE 01/08/2013
The road workers are still in the Mouassine District so one of the two roads used to approach Riad el Zohar is still tricky to negotiate. The other road is clear. The finished roads are all still tamped earth and it seems our first assumption is correct that they will not pave until all the works in the neighbour hood are finished. Either way it has been a long hard work and has lasted a long time but we have ended up with a new fresh water supply and new waste drainage, all from modern materials so this should last a long time and leakage will be dramatically cut down.
Thanks to all our Guests who have been very understanding and tolerant and thanks too to our staff  who have had to work twice as hard to ensure the riad has been cleen and dust free to our normal high standard.
NATIONAL FESTIVAL of POPULAR ARTS in MARRAKECH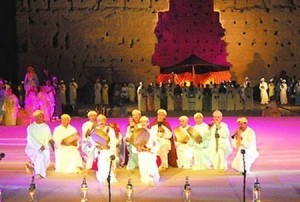 June 12 to 16, 2013
Founded in 1960 by His Majesty King Mohammed V, the Folk Festival is the oldest arts festival in Morocco. It reflects the wealth and importance of Moroccan folklore,including dancing, singing and costumes: Dances from all over Morocco including the  Atlas, the Gnaoua Sahara,  These dances are drawn from important moments of religious or rural life.
Twenty different troops of dancers will perform in the El Badi Palace, which can accommodate more than 2,000 spectators, or the Menara Gardens and maybe The Square.
ROAD WORKS UPDATE 08/05/2013
There have been massive holes dug along our street by a hard working crew of 11 men using just picks, shovels and buckets. The trench has been about 3 metres deep, extraordinary work. The new drainage has been laid and backfill has finished, the new fresh water pipe is connected and just waiting to sink just below the surface. Yesterday we had this enormous hole outside our front door and today the ground is level! they have turned the corner to the last 100 metres of street. Our street will be an earth surface until they re-pave. I cannot imagine they will re-pave until they have completed the whole street. The streets in the whole Mouassine district are covered with a layer of earth and dust even if they have not dug up those roads. Thank goodness they are doing this in good weather; it was 36° today.
12 out of 10 to our crew, both the ladies and guys, who  are in a constant strife to keep Riad el Zohar its usual immaculate self. It is like painting the Forth Bridge on a daily basis!
ROAD WORKS 22/04/2013
Apologies to all guests over the next few weeks. The Council are renewing the underground water pipes in our part of Mouassine district. They have been excavating the roads all around us. Now joy, they have reached our street and there are piles of earth, planks to walk on and the carossas (handcarts) can't reach us. We cannot moan, the lads are working very hard and they are upgrading our services for which we are grateful. It would be really good if when they put it all back together we have new pavements, we are one of the very best districts with some of the worst pavement surfaces.
GREAT NEWS:
Riad el Zohar has been voted number 14  B&B and Inn in Morocco, not just Marrakech. Voted for by our guests. Also number 21 in Africa, how about that !!
We are always very lucky with our guests. Maybe our website filters those people who are comfortable with us. We have tried to make the website as honest as possible so that 'what you see is what you get!'  Not always the case with riad web sites !