---
---
Flexible Bookings
For peace of mind, we offer all our guests the flexibility to move their booking without additional charge to an available date. In the unfortunate circumstance your stay needs to be cancelled we are liaising with our guests on an individual basis for a full refund.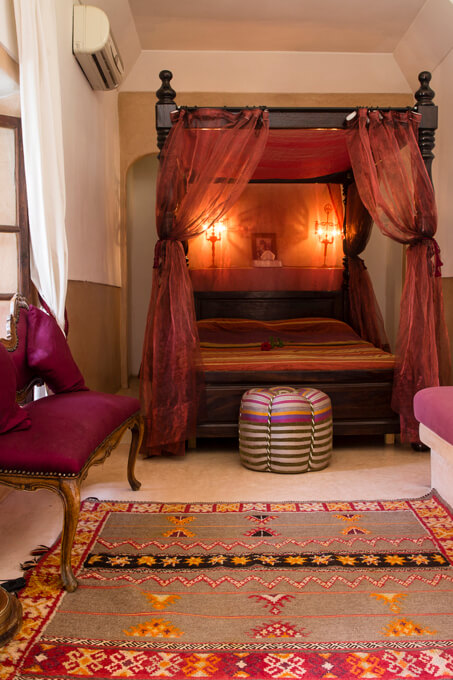 Our Rooms
At Riad el Zohar, our sumptuous rooms give you an authentic taste of Moroccan life with a warm and welcoming atmosphere.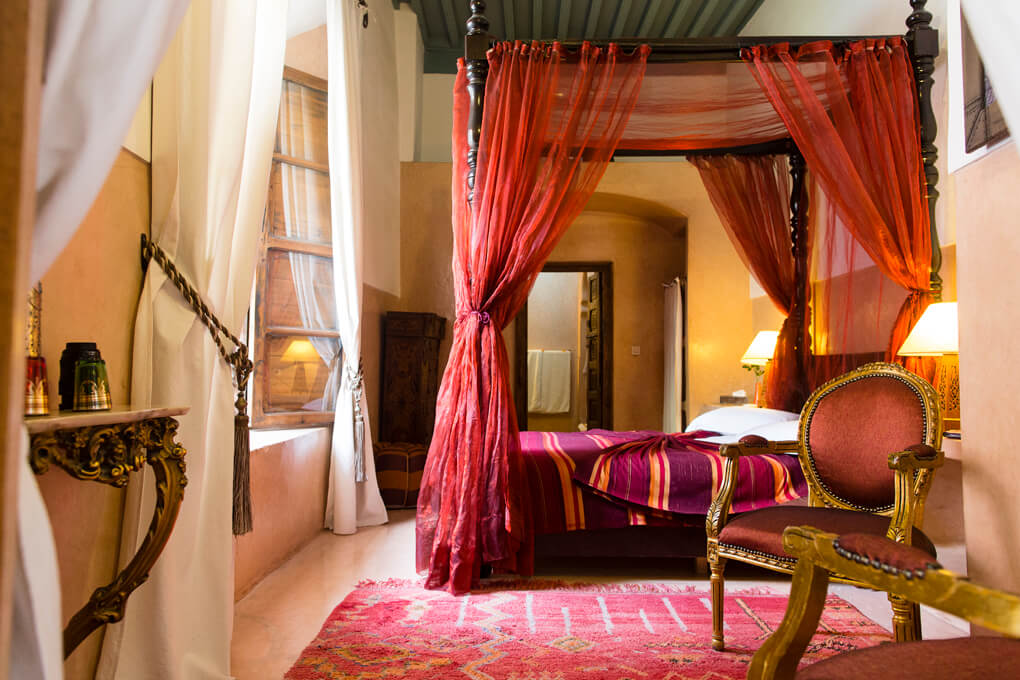 Prices from £110
Authentic four-poster double bed
Large Picture Window
Ensuite Bathroom
Supplementary Bed Available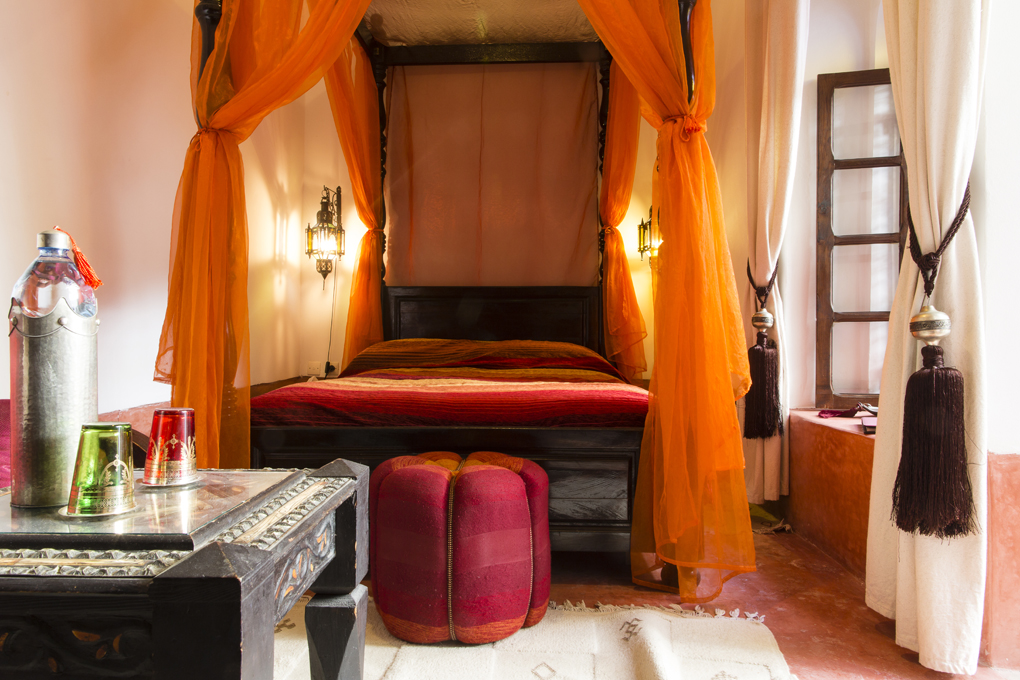 Prices from £110
Authentic four-poster double bed
Next to our Plunge Pool
Large ensuite Bathroom
Supplementary Bed Available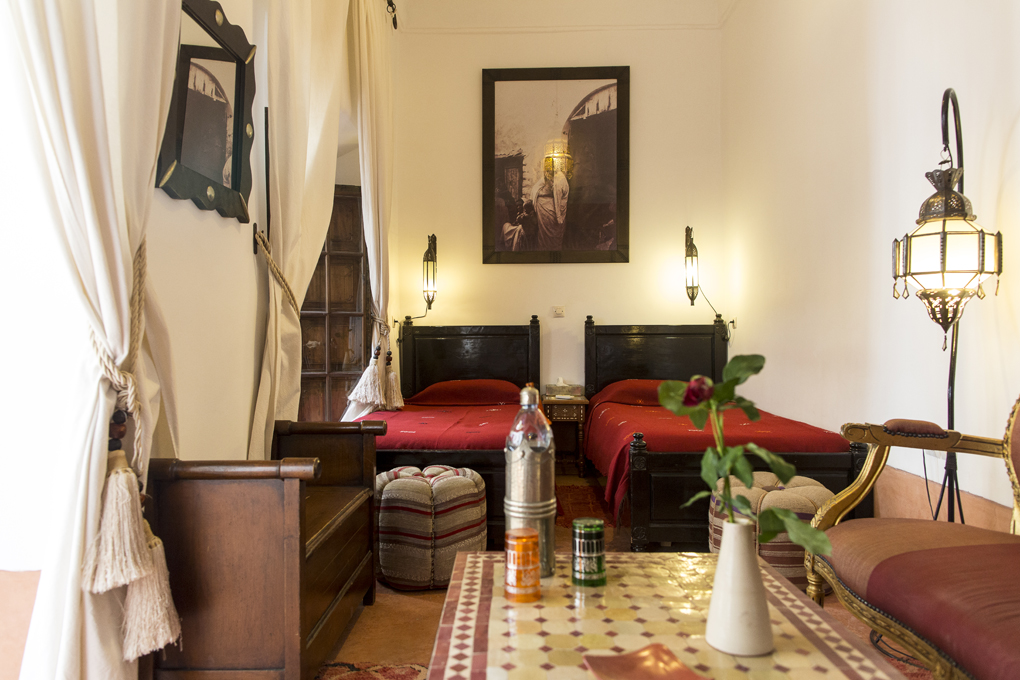 Prices from £110
Twin Beds or King Size
Ground Floor
Ensuite Bathroom
Supplementary Bed Available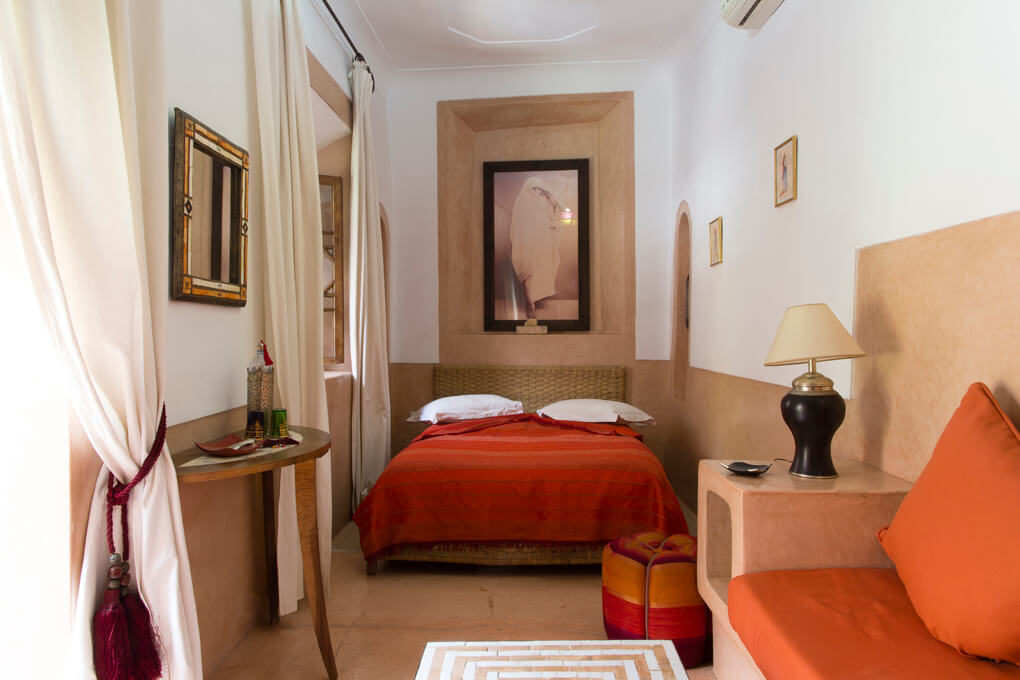 Prices from £110
Double Bed
First Floor Balcony
Light and Airy
Ensuite Bathroom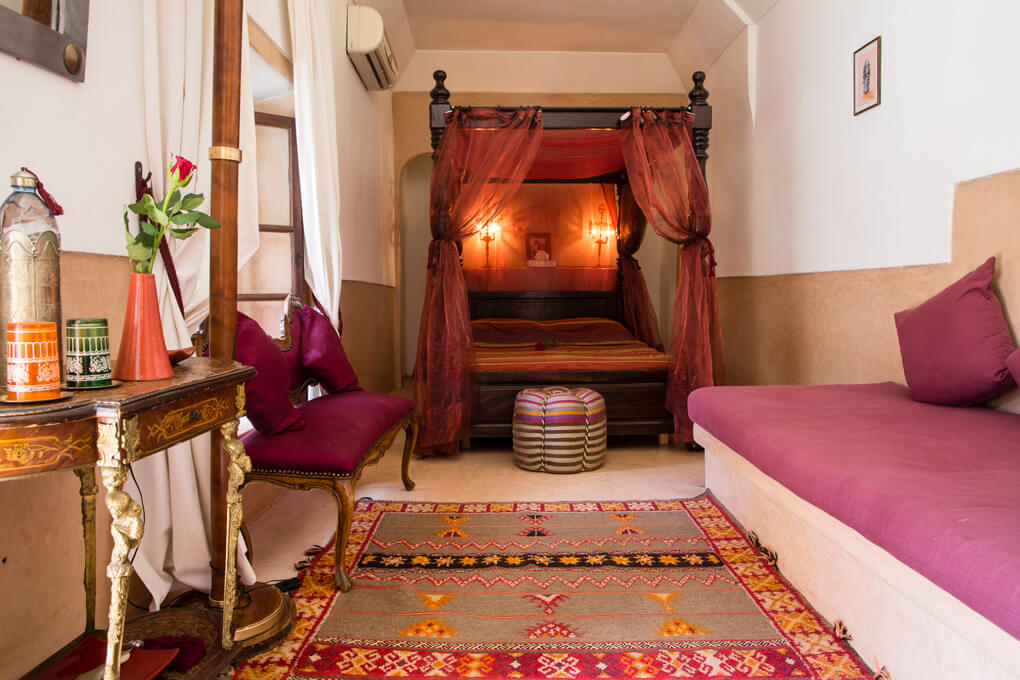 Prices from £110
Authentic four-poster double bed
First Floor Balcony
Supplementary Beds Available
Walk-in Wardrobes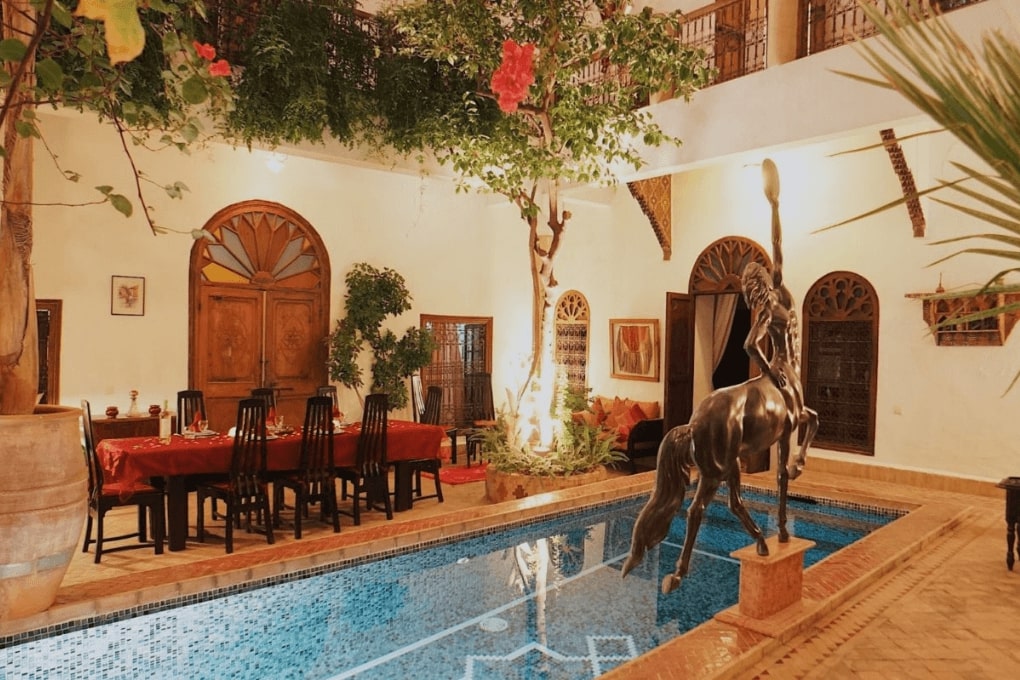 Prices from £520
The whole Riad for you!
Luxury Pool
Boutique Hotel
Amazing Location
Best Traditional Riad in Marrakech – Top Features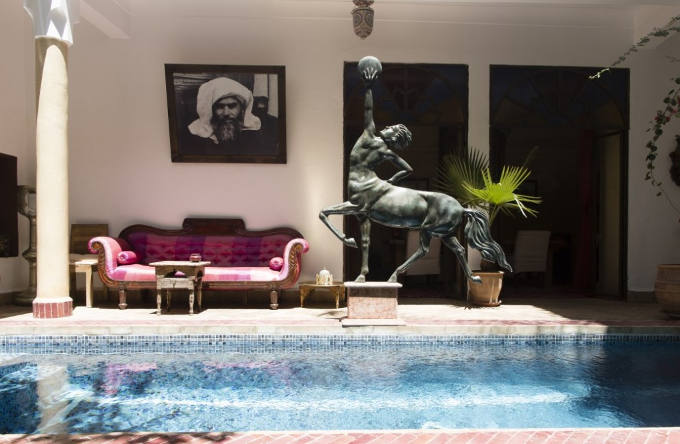 The Riad Pool
A refreshing oasis uncommon in many other guesthouses of Marrakech, the spacious plunge pool allows you to beat the heat in the sweltering climate of the Red City.
The perfect spot to unwind and decompress after a day of touring the sights, this plunge pool was crafted so each visitor can appreciate true Moroccan design while relaxing in a soothing setting at the core of a traditional riad.
The Terrace
The perfect place to relax after a long day of shopping through the medina, visiting the terrace will provide you with some of the best views of the teeming Marrakech Medina – whatever time of day you decide to visit.
Situated in the heart of the Old City, the terrace always has plenty of sun loungers and towels to go around and is the ideal location to escape the hustle and bustle of the city. So, sit back, relax and enjoy soaking up this truly unique experience with complimentary tea and coffee.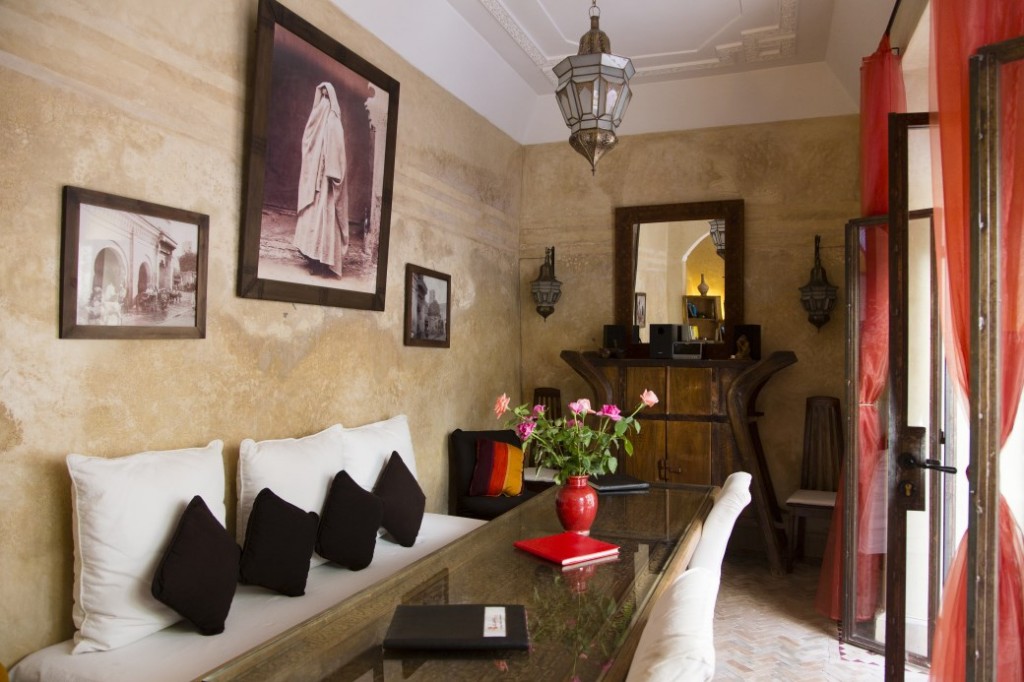 The Saloon
Featuring some of the most beautiful and classical architecture that Marrakech has to offer, the saloon encapsulates a unique cultural experience, from the centuries-old painted ceiling to the finest Moroccan architecture.
Whether you're looking to grab a quick bite to eat before heading out to see the sights, catching up with friends away from the bustle of the Old City, or enjoying time relaxing in your own space, the saloon is located just a short walk away from the souks, making it the ideal place to stay if you're looking for a slice of Marrakech's history, heritage and culture.
The Courtyard
A trip to Marrakech wouldn't be complete without sampling traditional Moroccan cuisine, and our beautiful courtyard is the ideal setting to do just that.
We offer a superb selection of dishes, all served on stunning handcrafted tables for an unforgettable dining experience.
Passionate & Knowledgable Team
We've spent over four decades getting to know this city and we know it well. Being able to share our passion and recommendations with our guests is something we take great pride and enjoyment in. We want to ensure that every one of our guests makes the most of everything that Marrakech has to offer, from souks and architecture to restaurants and unique cultural experiences, to maximise your stay in this exciting and vibrant city.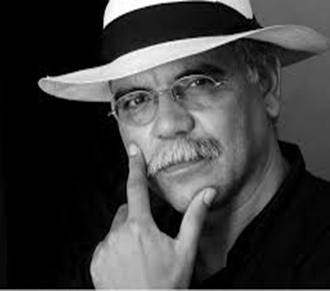 Meet Allan, Owner & Marrakech Expert
"I have just returned from Riad El Zohar and there aren't enough adjectives at my disposal to describe how beautiful Riad El Zohar is…and I don't just mean the building and decor"
Jenn Proske
Get Complimentary Extras When
Booking Direct with Riad El Zohar
Per Room/Per Night
Standard
Season
High
Season
Twin
£110 pn
£138 pn
Double
£110 pn
£138 pn
Whole Riad per night
£520 pn
£650 pn
Whole Riad per 7 nights
£3050 pn
£3830 pn

Optional Extras

Lunch per person
£11 pp
£11 pp
Evening 3 course dinner per person
£19 pp
£19 pp
Airport transfer
£15 per car
£15 per car
Why Choose Marrakech
With its lively Medina, colourful souks and picturesque gardens, Marrakech offers an exciting and rejuvenating getaway for travellers. From exploring the majestic mosques and palaces to chatting with locals at the bustling markets, Marrakech provides endless opportunities for adventure and cultural immersion.
A vibrant destination filled with a thriving atmosphere on every street, Marrakech enjoys warm weather and endless sunshine throughout most of the year. An epicentre for culture and history, this city is home to opulent palaces, squares and places of worship that will ignite a love for the city like no other.
Marrakech offers exquisite dining with unparalleled service, all just a short-haul flight away from most UK airports. For a truly authentic trip filled with passionate, friendly people and rich, once-in-a-lifetime experiences to suit any budget, be sure to consider Marrakech as your next indulgent getaway.
If you'd like to discover more about Marrakech's hidden gems and inner secrets, don't worry – our useful recommendations will provide you with all you need to know.
FAQs About Your Stay
Why Stay with us?

Why Stay with us?

Riad el Zohar is over 300 years old and while it has been refurbished to the highest possible standard, we've taken care to ensure it retains many of its original features for that authentic charm. It is also one of very few traditional riads in Marrakech to have its very own plunge pool, so you can relax and unwind during your stay here.

As residents of Marrakech for over 45 years, we know this area like the back of our hand and love being able to now share that knowledge and passion with our guests. We pride ourselves on being able to provide incredible, personalised recommendations to guests, so you can make the most of the various activities and restaurants that Marrakech has to offer.
What is a Riad?

What is a Riad?

When people come to Morocco, they mistakenly believe that a riad is a small hotel or Bed & Breakfast. But a riad is actually a traditional Moroccan house, usually with two or three floors situated around an Andalusian-style courtyard. Within this courtyard there will typically be a beautiful garden, as well as some form of water, usually in the form of a fountain or – in our case – a plunge pool.

Historically, riads were the stately city homes of the wealthiest and most powerful people in Morocco, and were used by military officers, minor royalty and merchants. Nowadays, however, many of these riads have been converted into small hotels, guest houses and maison d'hôtes.

Each room within the riad has windows which face into the courtyard, in line with the Islamic idea of privacy and inward reflection. This also helps keep the air cool and comfortable within the riad itself, which is particularly useful during hot Moroccan summers. Our riad also features a thick external wall to block out street noise and help create an internal oasis of tranquillity and rest for our guests.
How many bedrooms does the Riad offer?

How many bedrooms does the Riad offer?

We have five luxurious bedrooms available, each sleeping two people. The focus at Riad el Zohar, as with most traditional riads, is on quality over quantity. Each room we offer has been beautifully decorated to a high standard, featuring magnificent Moroccan architecture and traditional furnishings. All of the rooms also feature air conditioning, an en-suite bathroom, luxury bedding, plush dressing gowns, and much more for a comfortable stay.
Where is the Riad situated?

Where is the Riad situated?

The riad's location strikes the perfect balance between being in a secluded, quiet spot for relaxation while also being close to the souks and attractions. We're located in the popular Mouassine district, at the heart of the ancient Medina and very close to Jemaa el-Fnaa – Marrakech's most popular square. It's the ideal location for exploring this mesmerising location, with all the most popular attractions close by within this ancient walled city.
Why choose Riad el Zohar?

Why choose Riad el Zohar?

We pride ourselves on delivering first-class customer service that has seen us build a strong following of loyal customers. We received Tripadvisor's Travellers' Choice award in 2023, indicating our dedication to ensuring our customers enjoy a superb experience with us.
How easy is it to navigate the city?

How easy is it to navigate the city?

Marrakech may seem a bit overwhelming at first but don't worry – we know this area very well and will be happy to advise you. A member of our team will greet you on arrival and navigate you back to our riad so that you know precisely where to go. We'll also provide you with detailed maps and a location app for your smartphone, as well as take you on a brief guided tour of the local area to give you a glimpse of the city.

Our team are always more than happy to provide you with advice and recommendations during your stay with us. Each of our rooms and saloons feature guidebooks to advise you on what to see and do during your stay in Marrakech, so you can make the most of your time here.
Can I dine in the Riad or is it just B&B?

Can I dine in the Riad or is it just B&B?

Of course! In fact, at Riad el Zohar, you'll enjoy some of the finest meals to be found in Morocco. We are fortunate enough to have three excellent chefs who can create a wide range of exceptional Moroccan dishes for our guests. So, whether you choose to dine with us every night or just on the odd occasion, our chefs will be on hand to cook delicious meals for you to enjoy.
What is the weather like in Marrakech?

What is the weather like in Marrakech?

The weather is at its mildest and most pleasant in the spring and autumn. While the summer season can get quite hot – sometimes reaching highs of 38oC – it's a dry heat that most people find manageable. All of our rooms are fitted with air conditioning, so you can rest assured you'll be comfortable during your stay. For a guide of average temperatures and rainfall you can expect throughout the year, please click here.
What is Travellers' Choice?

What is Travellers' Choice?

This award is our highest recognition and is presented annually to the properties ranked within the top 10% on Tripadvisor across select categories. There is also Certificate of Excellence – on the rare occasion we do not receive the Travellers Choice, we will always achieve the Excellence Award.
Certificate of Excellence

Founded in 2010, the Certificate of Excellence award honours hospitality businesses that consistently achieve outstanding reviews on TripAdvisor. This award is only given to the the top 10 percent of accommodations, attractions, restaurants, and vacation rentals listed on TripAdvisor.
Contact
Morocco: +212 524 39 163
UK Mobile: +44 7802 203124
Email: info@elzohar.com
Testimonials
"You can stay in a four star hotel anywhere in the world and it will be pretty much the same experience. However, when you stay at El Zohar it's like coming home. You are truly treated like family….family that's liked!! Sitting at the spectacular table in the beautiful courtyard of the boutique Riad enjoying that tea is as comfortable as sitting in your own living room. Alan, one of the owners, will give you tips and advice as to where to shop and how to avoid being ripped off in the souks. The rooms are comfortable and clean. The staff…more like new found friends than staff. Breakfast is literally a feast…way too much food…. a great selection that's far more than you could ever eat, but boy is it good!! If you are going to pick a Riad in Marrakech this is the one I would recommend without reservation."