This is a charming little Museum showing various aspects of the perfumes of Morocco and how they fit into the modern world of perfumery.
Various rooms demonstrate natural perfumes and the main essences that constitute the exotic perfumes particularly associated with the magic of Morocco.

The Rose
The rose has a particular importance in Morocco featuring in many gardens and courtyards as a thing of beauty and perfume. Morocco supplies most of the roses for the world's perfume industry.
There is a festival of roses held south of the Atlas in M'gouna in early May.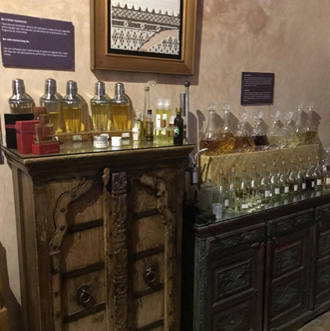 One of the absolute main attractions for the museum must be the opportunity to create your own perfume under the guidance of the Manager Khadija. You can create your own Eau de Toilette in 30 minutes or your own perfume in around an hour. Prices range from 400 Dirhams to more than 1000 Dirhams.
The museum was founded by Abderrazzak Benchaabane, Botany and Ecology professor at the University of Marrakech, who rejuvenated the Marjorelle Gardens for Yves St Laurent at the end of the 20th century.
In 2001 he was asked by Yves St Laurent to use his knowledge of plants and perfumes to create a perfume, Jardin Marjorelle Eau de Toilette was launched in 2002. Since then his company has developed many lovely internationally recognised perfumes Notably Soir de Marrakech.