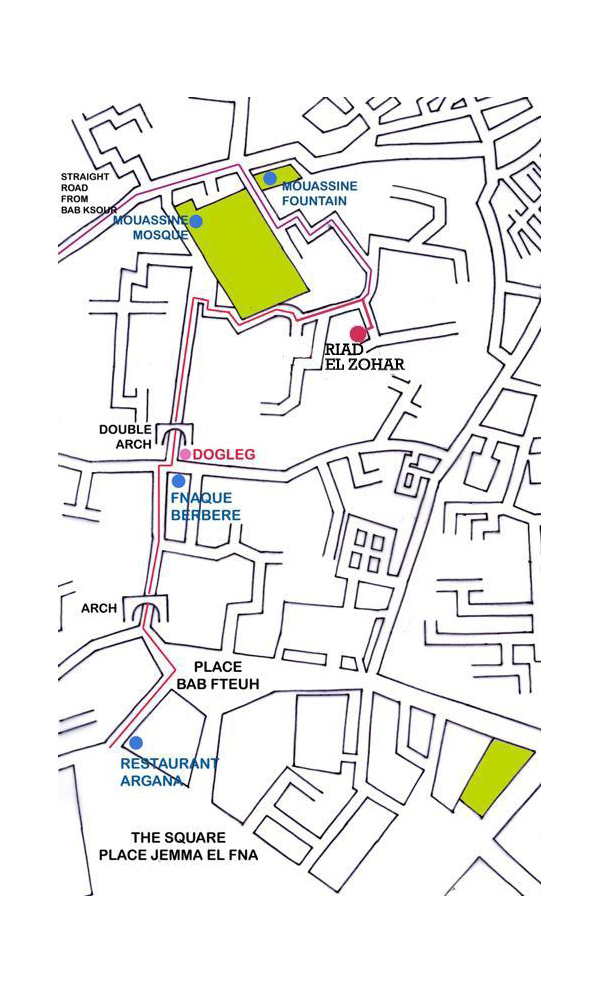 To Find El Zohar from the Jemma el Fna Square (la Place)
It is only 5 minutes! When you are in the square with your back to the Mosque Koutoubia look for Restaurant Argana in the bottom left hand corner and go down the small street to the left, this opens into a small square, Bab Fteuh. (If you wish there are usually plenty of hand carts in this small square to carry your luggage and also who would know the way to Riad El Zohar, 56 Derb El Hammam.)
In the left hand corner go through an arch leading to the Souks and follow the straight road for only 300 meters. You will continue through a small dog leg – 2 meters only– at the small corner book shop Fnaque Berbere and continue straight through the double arch for another 120 meters. When the road widens into a small open space to the right, and immediately behind you go through the arch and down 3 steps; there is a large white sign on the wall, Agence Immobiliere; the next section sounds tricky but it is straight forward, not far to go, with only two junctions.
Down the three steps follow the road which zigzags quickly right and left through other small arches and follow the road right through a small chicane at the junction turn left and continue straight to the end, at the T- junction turn right and El Zohar is the third door on the right and clearly signed.
To Find El Zohar from Bab Ksour – Recommended
Ask the taxi to drop you at Restaurant Diaffa, Bab Ksour (the Ksour Gate into the medina) There are usually plenty of hand carts outside the restaurant waiting to carry your luggage and they will know the way to Riad El Zohar, 56 Derb El Hammam, only 30 Dirhams- recommended . If you wish to make your own way go down the road to the right of the restaurant and crossing the road go through the arched gate, it is then a straight road nearly all the way. About half way down the 1000 meter road you will pass under a triple arch with Dar Si Rissa on the left.
Keeping straight on go past the white and blue arched door of Bogainvillea Café and you will reach a small open space. To the right is an arch with a large lantern light above and a green and yellow sign pointing 'To the Big Square' through the arch there is a small left and right dog leg then at the junction turn left following the white wall. After another small dog leg under ancient beams there is a T-junction, here turn right.
Under more ancient beams until at the next junction by theRiad Hostel Equity Point turn left and Riad El Zohar is the third door on the right and clearly signed.