Per Room/Per Night
Standard
Season
High
Season
Twin
£110 pn
£138 pn
Double
£110 pn
£138 pn
Whole Riad per night
£520 pn
£650 pn
Whole Riad per 7 nights
£3050 pn
£3830 pn

Optional Extras

Lunch per person
£11 pp
£11 pp
Evening 3 course dinner per person
£19 pp
£19 pp
Airport transfer
£15 per car
£15 per car
Most rooms can be supplied with an extra bed which is free for children aged 8-11, but £30 for adults.
Flexible bookings
For peace of mind, we offer all customers the option to move their reservation at no additional cost to an available date. In the unfortunate event of your stay having to be canceled, we are in contact with our guests on an individual basis for a full refund.
High season
17th December 2022 – January 2nd 2023
1st April 2023 – April 16th 2023
16th December 2023 – 1st January 2024
Continental breakfast included
Free mint tea, English tea and coffee all day
All local taxes are included in the price
Cooking class, including a 3-course dinner at £ 75 for two. Maximum 4 people.
Pool towels provided by the pool
Please note that we cannot accept children under 8 years old unless they are part of a riad group booking.
Terms
Click on the link for full conditions
What is the Travels Choice award?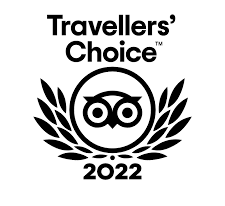 This award is our highest recognition and is awarded each year to the top 1% of companies in certain categories.
TripAdvisor also awards a Certificate of Excellence and sometimes we didn't get the Travelers Choice award, we always got the Excellence award.
Certificate of excellence.
Founded in 2010, the Certificate of Excellence award recognizes hotel companies that consistently earn outstanding reviews on TripAdvisor. This award is given only to the top 10% of the best accommodations, attractions, restaurants and vacation rentals listed on TripAdvisor.