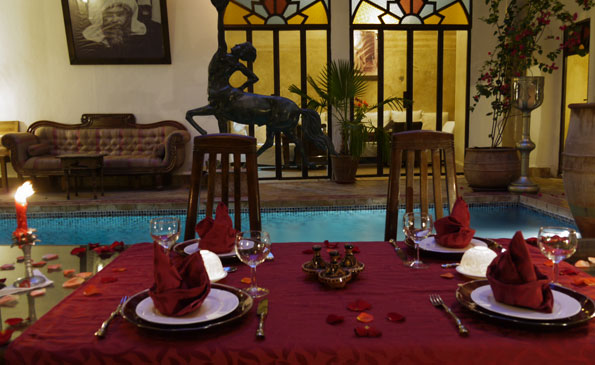 At Riad el Zohar, we want to ensure that your stay with us is in complete comfort, with all the luxuries you would expect from a lavish boutique hotel in Marrakech. We think it's important to pay close attention to the little details that make our guests long to come back for more. The Riad is splendidly decorated to make you feel fully immersed in the cultural experience of our city. Our beautiful building, lavish rooms and range of luxurious services are sure to make your stay in Marrakech a memorable holiday you'll never forget.
Enjoy an unforgettable and authentic stay in a converted home in Marrakech with all the amenities you would expect from a luxury hotel. As well as opulently furnished rooms and a beautiful courtyard swimming pool, our stunning boutique hotel also provides everything from luxury dining offering authentic Moroccan cuisine, to delightful cookery lessons, airport transfers and business services, including free Wi-Fi.
Our historic renovated hotel is situated in the popular Moussaine district in the heart of the ancient Medina. We do everything we can for our guests to immerse them in an authentic visit to one of the world's favourite destinations. We know the Medina like the back of our hand, so we'll point you to all of the city's most popular attractions and to some of our hidden gems to make your stay the fabulous cultural experience you've been dreaming about.
Here are just some of the services we love to offer our guests, but if there is anything else you need, all you have to do is ask and we will do our best to make your stay all that you hoped for and more.
Just let us know your airline, flight number, and arrival time and we'll send a driver to meet you. Your driver will take you to the outskirts of the Medina where you'll be met by a local porter who will guide you and carry your luggage on a handcart directly to the Riad's front door. Find out more about this service and costs here.
We arrange several day trips if you are keen to explore further afield while you are here, which include:
• The picturesque Atlas Mountains
• The coastal fortified port of Essaouira
• The edge of the desert at Quarzazate
• 4-day trips to the Sahara desert
• The Unesco-protected, fortified village Aït Benhaddou (this red mud-brick city has featured in many films as a replacement for Jerusalem)
• The stunning mosaics of Glaoui Kasbah (Kasbah Telouet)
• The Atlas Film Studios
We recommend two independent British Operators offering great personal, tailored services. In our experience, the very large, international tour operators often provide an inferior service.
Naturally Morocco is a small caring family business with a thorough knowledge of Morocco, established many years. Their advice will be excellent
http://www.naturallymorocco.co.uk/
Fleewinter is slightly larger. Having started with just Morocco and South Africa 18 years ago, they have, as they have grown, maintained the same philosophy of having small dedicated teams looking after a particular country, so that they know their product well. The Moroccan team is unchanged for many years.
https://www.fleewinter.com/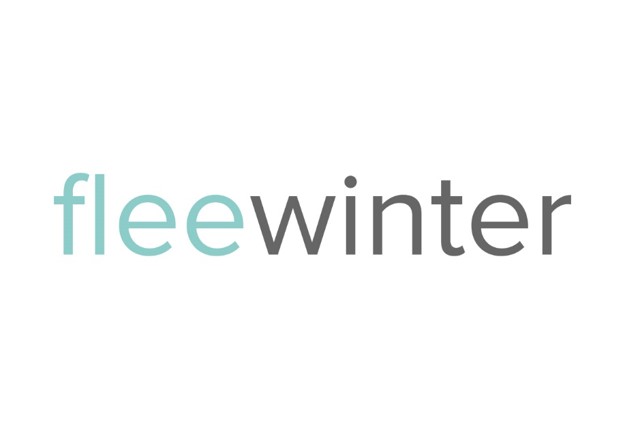 Both companies are ABTA bonded for your security. Both companies send their staff out to stay in all their Moroccan hotels and riads so that they know the hotels and staff intimately and also importantly, the location, whilst checking that high standards are being maintained.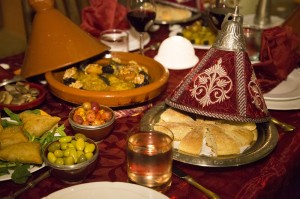 Enjoy superb authentic Moroccan cuisine at the Riad, served either in our courtyard, on our romantic terrace with views of the Medina, or in one of our private salons. We use only the freshest ingredients and highly skilled chefs to bring you traditional Moroccan dishes that truly tantalise the taste buds. We can cook for you at any time, just let us know in advance. Find out more about our dining experiences here.
We know all of the best places to eat in Marrakech. We're not linked commercially with any particular establishments, so you can be sure our recommendations are based purely on our own high expectations and discerning palates. Take a look at our insider's guide to the best places to eat in Marrakech. We promise you won't be disappointed. Let us know if you'd like us to book anywhere in particular. We'll do our best to get you the best dining spots at a time to suit you.
If you love the idea of learning how to cook authentic Moroccan dishes, try your hand at one of our traditional cookery lessons. You'll not only learn how to create some simple and delicious Moroccan food, but we'll also indulge you in a whole culinary experience by including a trip to the local market. You'll then get to enjoy the fruits of your labour, eating your prepared meal at lunch or at a romantic candlelit dinner.
We understand how important it is to stay in touch with work, even when you are on a relaxing or romantic break. Our business services include free Wi-Fi throughout the hotel, and use of a guest laptop, as well as access to additional business services such as a fax, printer, copier and scanner.
At Riad El Zohar we'll do our utmost to make your stay authentic, luxurious, and as relaxing as possible. If there is anything you would like us to help you with or anything we can do to make your stay absolutely perfect, please just ask. We love to exceed expectations.
If you're interested in learning more about the range of services that we provide, please use the contact form below to get in touch. We would be happy to provide you with any additional details on your stay at Riad el Zohar.
Call us today on +44 7802 203124 to make a booking or fill out the contact form below