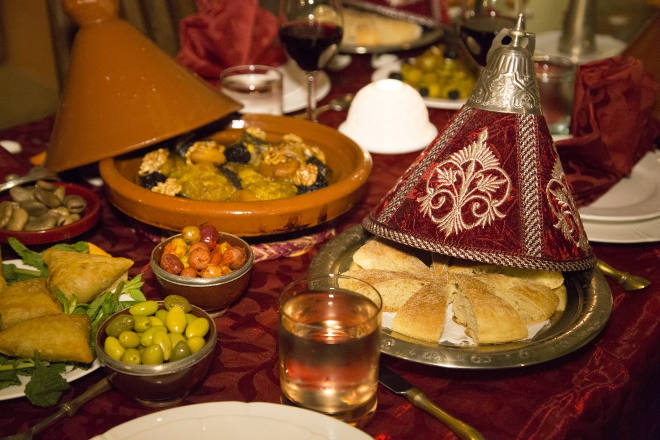 There are many small café style stalls in the Souks and many guests have eaten there safely for 100-150 DHS or less.
The Square itself sees the evening activity starting off around four in the afternoon as the crews for the BBQ tents arrive and set up their kitchens and displays. By early evening a pall of smoke hangs over the North of The Square getting thicker, as the night wears on and the activity becomes frenetic. The sales pitches of the vendors are imaginative and smilingly persistent, "Jamie Oliver Food", "Marks and Spencer Quality, Asda prices" etc ring through the air.
Safe bets are the kebab skewers or the fried fish, or anything grilled. It's wise to avoid casserole based dishes, tagines and couscous as they could be 'refreshed' daily, and any remaining will not be in a cold store overnight!
To eat, you sit on benches alongside locals out for the night and tourists of all nationalities. Plates will just appear in front of you, salads, extra bread etc. If you don't want them, turn them away as they will be charged extra. Expect to pay around 100 -150 DH per person. Walk around until you see a stall you fancy.
You will be approached as you pass every stall and the only way to quickly stop the polite persistence is to smile and say you have just eaten! The waiters will be persistent, but are good humoured and not overly aggressive. Choose the stall for the fun and atmosphere, as much as for the food.
The orange juice vendors are omnipresent and the juice is fresh and delicious.
---
Restaurants
These are some of the restaurants that we use and enjoy. We have no commercial links with these establishments and the views are personal without prejudice. All but two sell alcohol.
If you wish to try any of these just ask us to book for you, the earlier the better obviously, particularly at weekends. Most can be booked in the morning for the evening, but Al Fasia and Le Fondouk will need booking several days in advance.
If cards are accepted, it is usual and better to tip in cash if you wish to tip. 10% is normal, but do not tip if you are not happy. It is best to ask us to book for you as we try to ensure a decent table.
We have no commercial arrangement with any of our recommendations, we are totally impartial. They are simply the restaurants we love to go to.
Café Arab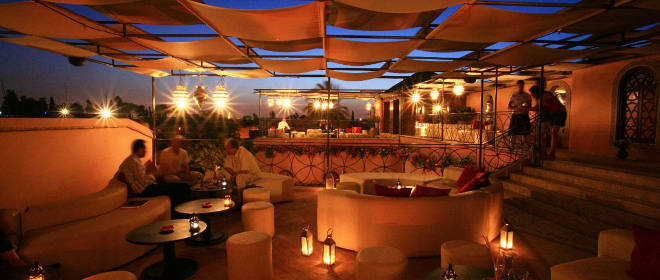 It's a simple four-minute walk for this restaurant with a good ambience. Café Arab is a well-managed establishment, featuring beautifully cooked and presented Moroccan and Italian dishes.
There is an excellent roof terrace with a cocktail bar, worth visiting before eating downstairs in the courtyard. The terrace with its low tables is better for eating lunch rather than evening meals. A meal here falls in the mid-range pricing and is voted the most popular by our guests. Cards accepted.
Kozybar
The Kozybar is a 20-minute walk from the riad or 4 minutes in a Petit Taxi from The Square. It's tucked in the far corner of a small square where the taxi will drop you. Here you'll find a good Moroccan menu augmented by Sushi from a Japanese chef! There's also an excellent wine list as the owner owns several vineyards in the north of the country.
Late evening Wednesday to Saturday there is usually excellent live music. In the summer an evening meal on the terrace is not to be missed as the sun sets behind Koutoubia and the storks are roosting just a few meters away. Service is slow, and the middle range pricing is a bit on the high side, but it's worth it for the view, especially from Spring onwards. It's wonderful being right next to the storks. Cards accepted.
Nomad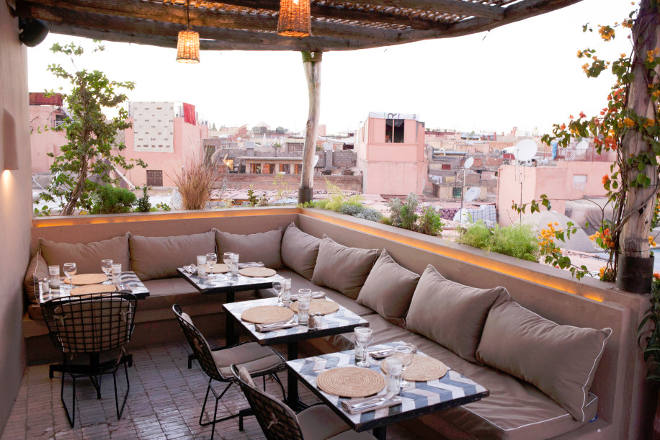 This Restaurant is brilliantly situated in the middle of the Souks right on the edge of the Spice Square – the old Slave Square – opposite the Café D'Epices. Nomad is a favourite for lunch. Service is excellent and the good modern Moroccan menu offers stylishly presented food.
Pricing is mid-range and cards are accepted. In the evening the souks to the north are shut so you'll need to go down to the Square to get home. A walk after dinner is fun anyway. They do not serve alcohol.
Dar Moha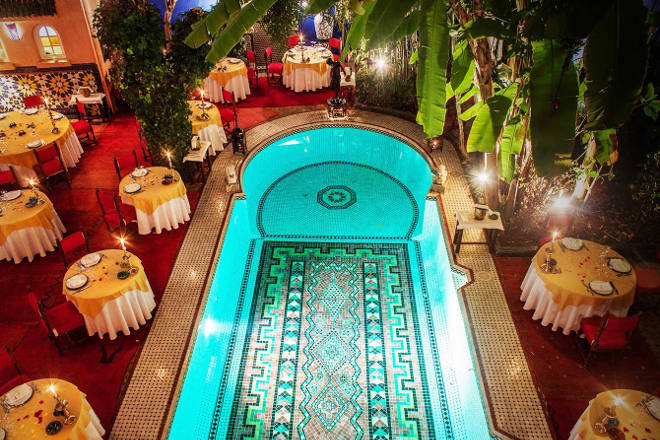 This is one of the best restaurants in Marrakech, featuring modern Moroccan dishes with a nouvelle cuisine slant, but with good portion sizes. Food is well presented by excellent staff. There's also live music by traditional singers and players.
Poolside tables are best in the summer but are closely positioned. The menu offers set meals only, which gives a good choice of dishes.
Take care not to over order, the food keeps coming! Dar Moha is priced in the top range and is popular so you need to book well in advance. Dar Moha is a 10-minute walk from Bab Ksour, but the journey is straight forward. Cards accepted.
Dar Zellij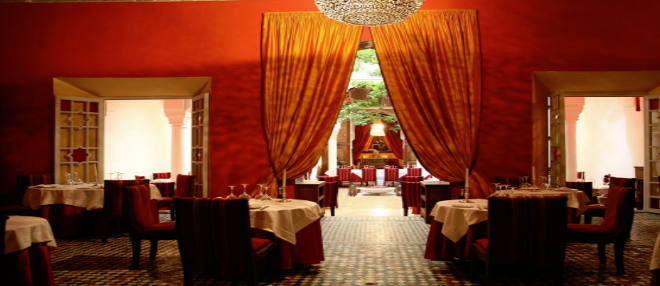 Like Dar Moha, this is one of the best restaurants for Moroccan food. It's difficult to find on foot, but a petit Taxi will take you as close as possible where you will find a uniformed guide to walk you to the front door.
Your guide will also walk you back and find a taxi home, so don't worry. Dar Zellij serves set meals only, which gives a good choice of dishes. Take care, the food keeps coming.
The restaurant has a really pleasant terrace for a pre-dinner aperitif on a warm evening. Here you will find top range pricing. Try to book well in advance. Cards accepted.
Al Fassia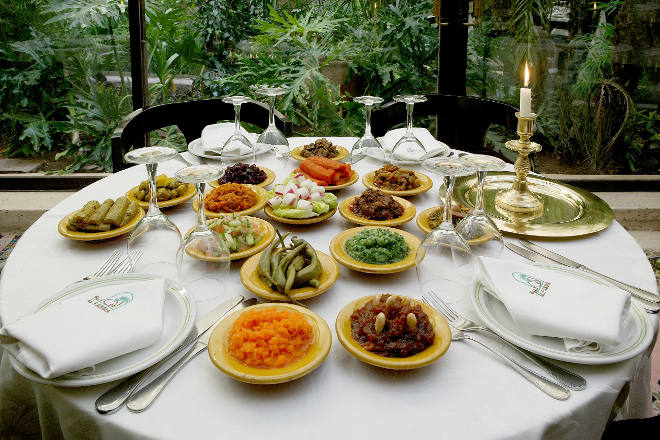 There are two Al Fassias, choose the one in Aguedal. They are both a small taxi drive. An all-woman team manages, serves and cooks. Expect good traditional Moroccan food à la carte, excellent ambiance and tasteful décor. Give our regards to Atimah the excellent lady Maitre D, she is one of the best in Marrakech.
Prices are mid-range. Booking at least a day in advance is a must; it is usually fully booked especially at the weekend.  Cards accepted.
Foundouk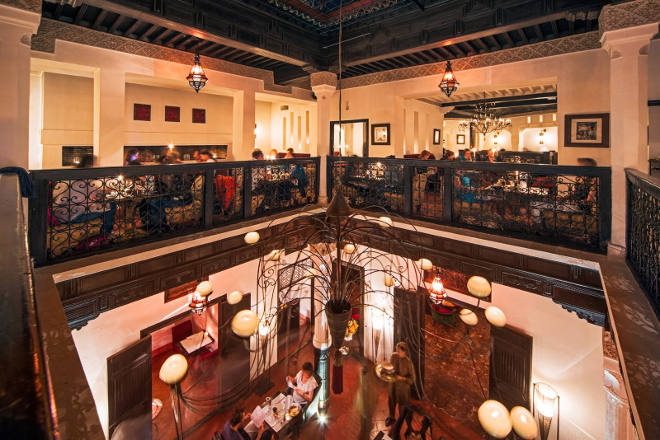 Foundouk is just past the Museum and Medersa so it is a straightforward 10-15 min walk from El Zohar, but take care, as it is trickier coming back! There is a turning to the right you can miss on the walk back if you don't mark it well on the way.
This place is in a lovely setting, features attentive staff, and generally good à la carte food, although occasionally you may get a duff dish (but do complain). It's a good place for lunch too, especially if you are visiting the museum or Medersa and the new Photo Museum which is 50 yards past the Foundouk. Prices are top end. Look out for scallywags saying it is shut. Cards accepted.
Pepe Nero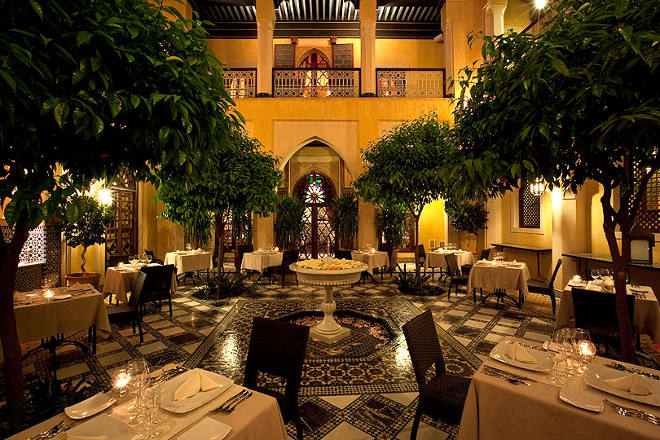 This is a top notch restaurant, offering first rate service and a choice of modern Moroccan or European dishes in beautiful surroundings.
Expect top end prices and an excellent wine list. It's a little tricky to find, although now the route is quite well signposted. It is a 10-12 minute walk from our door. Book a good day in advance. Cards accepted.
Terasse des Epices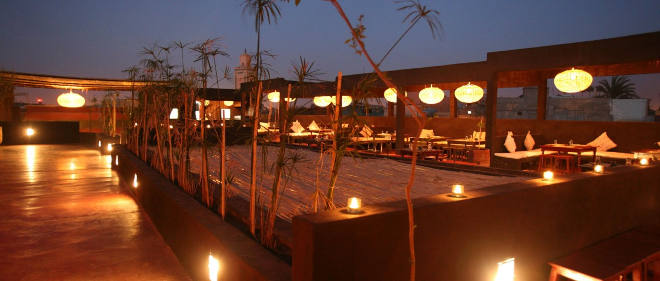 This is a good rooftop terrace restaurant. It is straight on from the Mouassine fountain, past Café Arab, then turn right at the first cross roads and it is on the right, entering through a small enclosed bazaar of shops.
It is an open terrace so take care on cold days. Terasse des Epices is great for lunches and really pleasant on a warm evening too. The food is Bistro Moroccan with a few European style dishes. The restaurant is licensed and well priced. Cards are accepted.
Dar Donab
Just 8 minutes' walk from our door, it is straight on from the Mouassine fountain, past Café Arab, then turn left at the first cross roads and it is on the left. This huge riad was a sumptuous palace the Glaoui, Pasha of Marrakech.
It was built for three of his favourite wives and is just around the corner from his palace, Dar Basha. Tables are set out widely spaced in the trees around the pool or in the dining room in cold weather. The à la carte menu features good traditional Moroccan food by Fatima the cook. Cards are accepted.
Un Déjeuner à Marrakech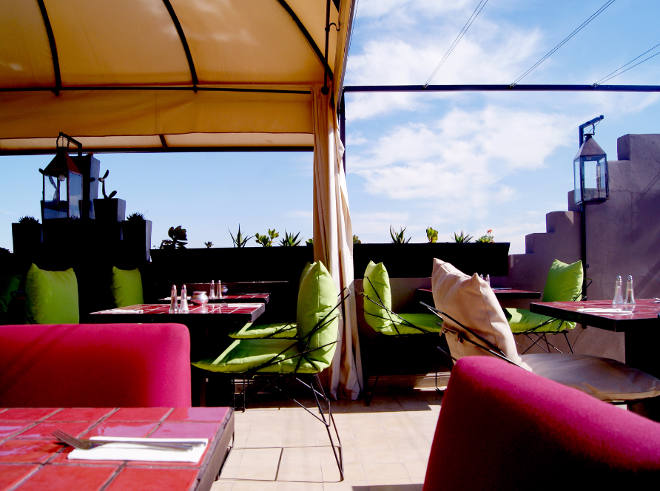 Well worth the 10 minute walk from the riad or a few minutes from Café de France on The Square. This lovely little casual restaurant serves a fusion of Moroccan food with French tastes and presentation. Open from morning coffee, lunch, afternoon tea and dinner, you can pop in any time of day. Efficient service, no alcohol and no credit cards. This place is a delight so close to The Square or on your way to or from the Palaces. Cards are not accepted.
Limoni

Italian owned with good Moroccan and European dishes. Attentive, English speaking staff. A popular place for dinner or lunch. A little tricky to find so ask us before you set off. Licenced. Cards accepted.
Bagatelle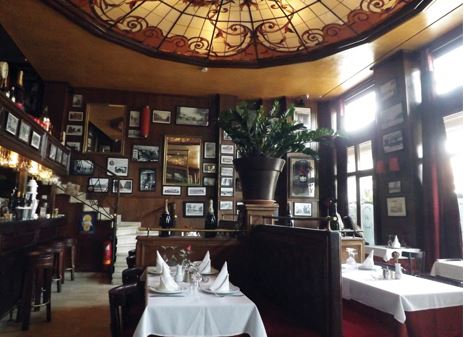 You haven't come to Marrakech for French Cuisine but if you fancy a change and want to dine in a traditional French Bistro alongside French Ex-Pats, then this is the place for you, in the new town Guillez. 10 minutes taxi ride. Family run for 40 years and the original matriarch is still there! Licenced. Cards accepted
Tobsil
This is our own Mouassine district top of the range restaurant at Bab Ksour. 650 Dirhams per head for a set menu, which changes from week to week, including a bottle of house wine. The menu features many 'tasting' courses.
Michael Winner was often a visitor and his remembered newspaper articles ensure the restaurant is always full, usually of American, French and English customers. Some say this restaurant is the best in Marrakech. It is small and intimate, but with no roof terrace. Cards accepted.
A Table du Palais
Two minutes from our front door, a huge wealthy merchants riad of old. Here you can expect an excellently prepared meal in an elegant, quiet courtyard that featured in Monty Don's Paradise Gardens. If you seek out their saloon you will find some stuning artwork. With very good service, this restaurant is far from the madding crowd just outside the entrance.  There are Moroccan or International choices on the Menu, and the restaurant is licensed. Cards accepted.
Kui-Zin
Kui-Zin Cafe is a really excellent café serving restaurant quality food. Just past the Tomb of Sidi Abdel Aziz. It's 40 metres along the road to the Medersa on the right hand side. The café has WiFi, live Music, and two terraces. Expect restaurant quality food at fafé prices. The café is not licensed.
By mid-range pricing we mean around 200-250DH per head depending on choices plus wine and by top range pricing we mean around 400/500DH per head depending on choices plus wine.
The three favourite restaurants voted by our guests would be Café Arab, The Nomad and Terasse d'Epices.
---
Lighter Lunches and Good Value Dining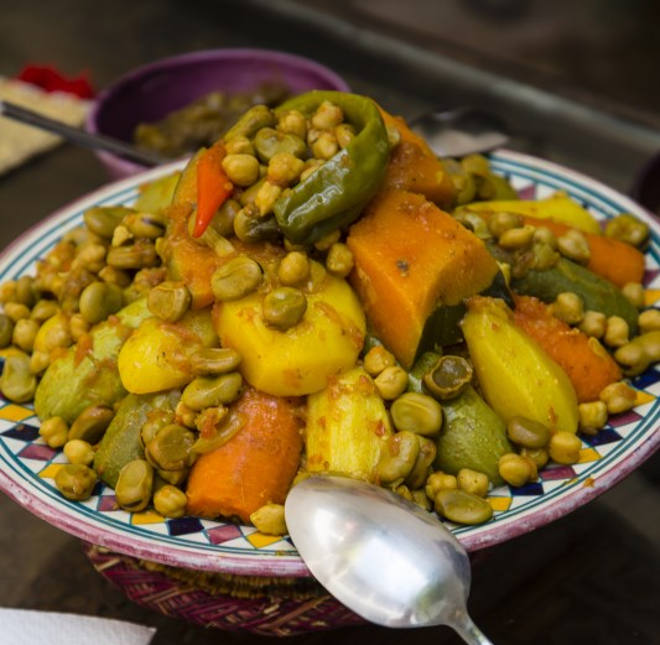 For a lighter lunch try any of the restaurants around the square for either inexpensive traditional Moroccan cuisine or omelettes. Most of these are clean and inexpensive at around 100DH.  They serve the same menus in the evening and are good value for money. Generally, cafés do not accept cards.
Café Bougainvillea is three minutes away from us near the Mouassine fountain, offering pizzas made on the premises, grilled panini etc….plus good chips. (Service has been a bit up and down lately so take care – 2017)
Terraces of the Medersa. This roof-top terrace is adjacent to the Medersa when you turn left to the Maison de Photographie. Good clean simple Moroccan dishes.
KFE BD at Bab Fteuh. Roof-top terrace between Bab Fteuh & Rue Semarine. Simple Moroccan menu.
Café Bakchich. Good clean simple Moroccan dishes, very inexpensive. Go down the road between Café de France & Marakchi Restaurant and it is facing you at the bottom. There's WiFi, and there are half a dozen inexpensive cafés nearby.
Café de Kasbah is right opposite the entrance to the Saadian Tombs. It has two floors and a good terrace. Good food, clean, a little dearer than the others. It's sometimes very crowded due to its location and having a nice terrace where the service can get a bit stressed!
Clock Café Just about as far South as you can go in the Medina, half an hour walk from the riad, or a few minutes by taxi. There's live music three days a week, calligraphy by appointment, and every Monday and Thursday you'll find the oral tradition of storytelling with an old Moroccan Master Story Teller relating the traditional stories in Moroccan – do not worry that you do not understand a word it is great entertainment – plus there are several of his young students who will story-tell in perfect English. Some of our guests have stood up and told stories to the great appreciation of the clientele. Story telling starts at 7:00 p.m. Get there at 6:00 to 6:15.
The Photo Museum has a terrace with a superb view over the Medina and is ideal for a relaxing drink. They do not have a restaurant, but they have a kitchen and good cooks serving simple, tasty, home cooked tagines and couscous. The staff are a delight, being refreshingly cheerful and helpful. The menu is 2 or 3 dishes of the day if it has not sold out! It's inexpensive and good value with great views over the Souks and Medina looking South down to the Kasbah Mosque.
The Glacier in the Square aspires to average, so avoid the food, but has a great view of the Square. Entrance is almost turnstile by purchasing a can of drink each, then you can stay there for hours watching the life below. On arrival, take a table three from the edge of the terrace, but then a game of musical tables ensues and slowly you'll move forward to a table right on the edge of the terrace for the best view.
The Argana Restaurant in the Square has inexpensive food and a great view over the Square. Middle Terrace for food, top terrace for drinks & cakes, Ground floor for excellent ice cream.
For additional recommendations – see our about Marrakech guide.