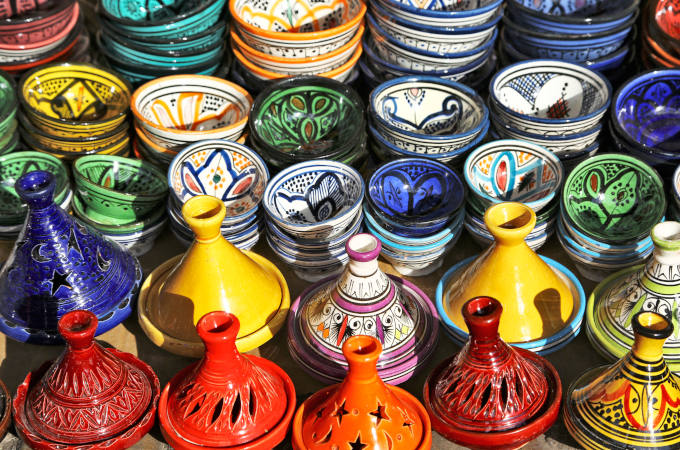 The Medina is the 1100-year old district in Marrakech, and is incredibly popular with tourists and locals alike as a place to meet, congregate, find delicious food and drink and stay.
Riad el Zohar is situated in the popular Moussanine district of the Medina, which puts you in the perfect location to venture out and explore the winding 600-year old streets surrounding the riad. The Moussanine district was home to minor royals and a major seat of learning, with gifts from the Sultan including the mosque, the hammam and the wash house.
Jemaa el-Fnaa is the main square in the Medina, and this is where you will find all sorts of street entertainers, from snake charmers to dancers to drummers. It is also home to many food stalls serving up a vast variety of local fare waiting to be sampled, and is particularly enjoyable at night when it fills with music, exotic aromas and people.
If you're looking forward to the shopping opportunities in Marrakech, the Medina is the perfect place to go. The area is awash with souks selling all sorts of interesting clothing, crafts, jewellery and food, and you will get a taste of the real Marrakech.
For an experience where you can truly submerse yourself in Moroccan culture and enjoy the best of what Marrakech has to offer, the Medina should be number one on your list of things to see and do in the city.
No trip to Marrakech is complete without a stay in a luxury riad in the Medina, and Riad el Zohar is the ideal option if you're looking for somewhere elegant, intimate and located in the very heart of the Medina. Contact us today if you're interested in staying at our beautiful riad in the Medina.