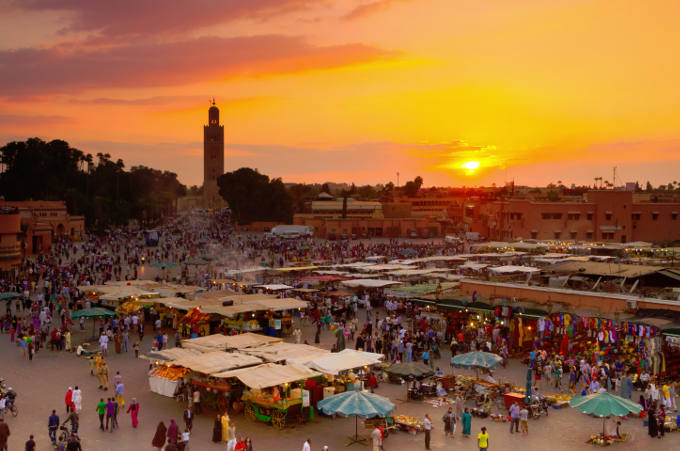 Essential Information
Currency: Dirham
Telephone dialling code: 00 212
Time difference: GMT +1 hour
Languages: The official languages of Morocco are Modern Standard Arabic and the Berber language but in practice in Marrakech you will generally encounter Moroccan Arabic and French as the most common languages
Marrakech has a huge range of monuments and impressive buildings to visit. The Koutoubia Mosque is one of the most famous symbols of the city, and you can walk around it for impressive views of the minaret. El Bahia Palace is a beautiful, ornate structure where it well worth taking a guided tour. History and culture fans should also see the El Badi Palace, a ruin of a once impressive building.
Make sure that you spend some time wandering in the sprawling souks. At these traditional markets you'll find virtually everything you can think of on sale from traditional Berber carpets and clothes to trinkets and jewellery. Remember that haggling is expected!
We are based only five or six minutes from the famous UNESCO-designated Jemaa el Fna Square and around a minute stroll from the lively marketplace of the souks: one of North Africa's largest market areas and a must-see during your stay. You might also enjoy a visit to a tannery, to see a different side of Marrakech life.
This is also a highly cultural city, home to many fantastic museums and art galleries. Be sure to visit the Maison de la Photographie to see an impressive collection of more than 8,000 photographs. Alternatively, head over to the David Bloch Gallery which showcases Moroccan, North African and Middle Eastern street artists. And don't miss the enchanting Majorelle Gardens, which offer a quiet respite from the busy streets.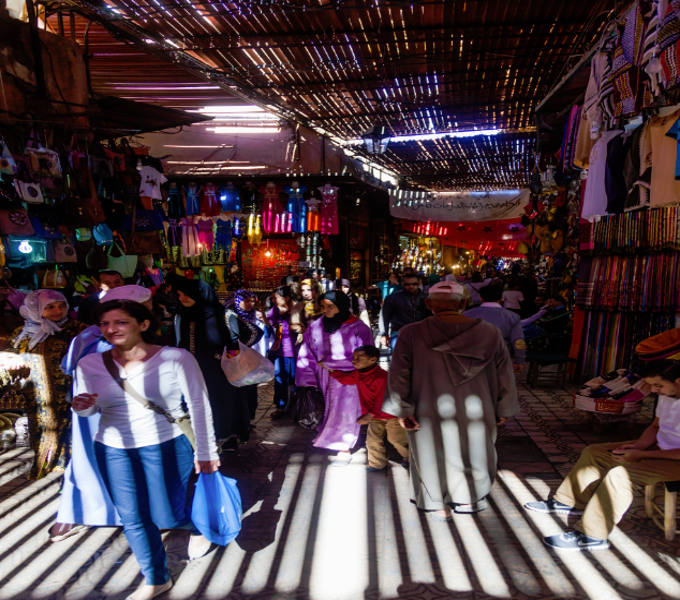 Marrakech has a hot semi-arid climate that makes it fantastic to visit almost any time of year. The summers do tend to get very hot (average daily highs can reach around 38°C or even into the low 40s) although it cools down markedly at night to pleasant temperatures. It remains warm through the winter and this can be an excellent time to visit, although at night it can get a little chilly.
The spring and autumn may be the best seasons to see Marrakech as the daytime temperatures never get too high while it never drops too much at night. It should be noted that they can be quite rainy and during the spring sandstorms are fairly common.
The city has its own international airport: Marrakech-Menara Airport which is based around 3 miles from the city. There are regular direct chartered flights from London and other UK airports, as well as all across Europe. The flight from London takes around 3 and a half hours.
It's worth noting that you'll need to fill out a form with your passport details on both arrival and departure. Citizens of the UK are entitled to 90 days visa free entry.
We can arrange airport transfers and meet you at the airport.
History of Marrakech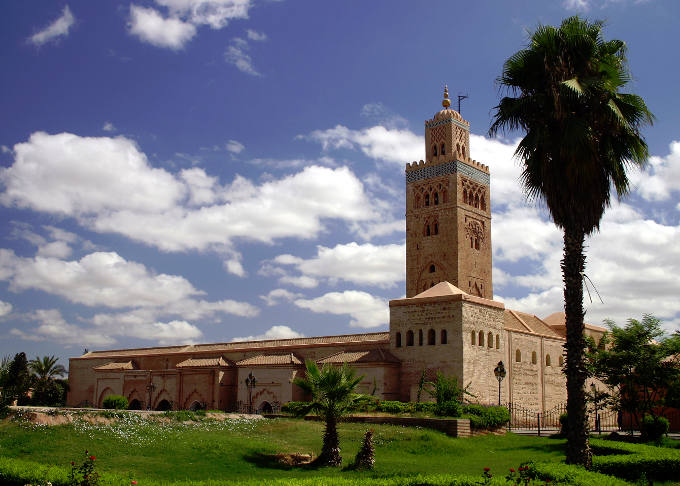 Marrakech is one of the one four former imperial cities that were built by Moroccan Berber empires. It had been inhabited by Berbers dating back to Neolithic times but the city was not founded until 1062 by the cousin of King Yusuf ibn Tashfin. The city's famous red walls were constructed by Ali ibn Yusuf across 1122 and 1123, which is how it got the nickname 'Red City'.
Through the centuries it has been decorated with impressive mosques, monuments and palaces, and it grew to be a hugely important trading city, with the largest traditional souk in Morocco. In recent times it has developed into one of Morocco's key tourist attractions and Marrakech is thriving city.
For further information be sure to check out our list of recommended places to eat in Marrakech.
Lesser Known Marrakech Attractions
Dar Bellarj
This wonderful Arts and Exhibition Centre is entered by a single brass door right next to the Ben Youseff Medersa. Bellarj means Stork in Moroccan and is a tribute to the history of the site. It was some hundred plus years ago a hospital for storks, the beautiful birds seen in their ramshackle nests on top of many buildings in Marrakech. Later a beautiful Riad was built on the site and after lying abandoned for ten years or so was purchase by a Swiss couple who have turned it into a cultural foundation.
Entrance is free of charge and it has hosted some stunning exhibitions. It is well worth popping in on passing, to see if there is currently an exhibition running. This place is very relaxed but hosts some very professional displays.
We, at Riad el Zohar, will try to keep a note of what is going on.
9-7 Toualate Zaouiate Lahdar
+212 524 44 45 55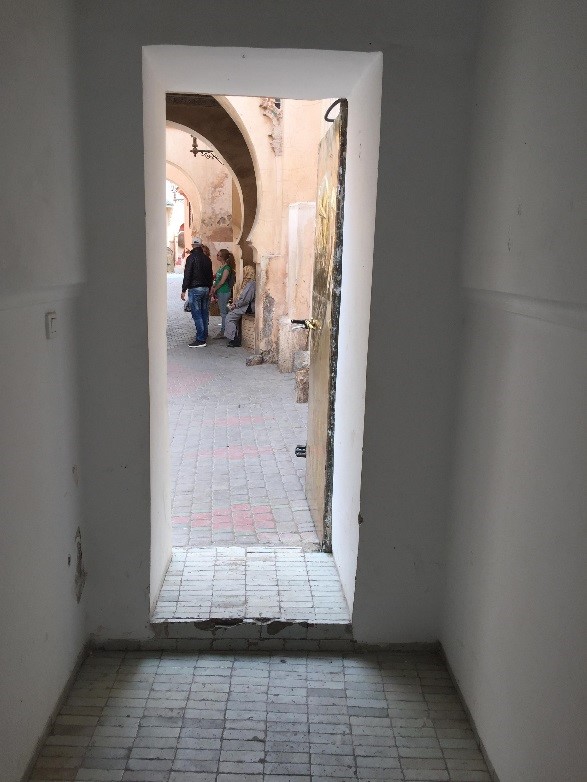 Musée de Parfum
This is a charming little Museum showing various aspects of the perfumes of Morocco and how they fit into the modern world of perfumery.
Various rooms demonstrate natural perfumes and the main essences that constitute the exotic perfumes particularly associated with the magic of Morocco.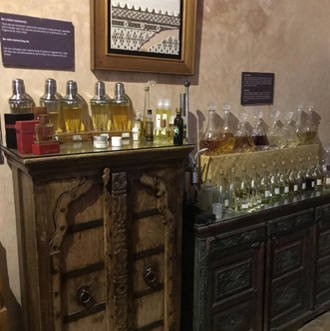 The Rose
The rose has a particular importance in Morocco featuring in many gardens and courtyards as a thing of beauty and perfume. Morocco supplies most of the roses for the world's perfume industry.There is a festival of roses held south of the Atlas in M'gouna in early May.
One of the main attractions for the museum must be the opportunity to create your own perfume under the guidance of the Manager Khadija. You can create your own Eau de Toilette in 30 minutes or your own perfume in around an hour. Prices range from 400 Dirhams to more than 1000 Dirhams.
The museum was founded by Abderrazzak Benchaabane, Botany and Ecology professor at the University of Marrakech, who rejuvenated the Marjorelle Gardens for Yves St Laurent at the end of the 20th century.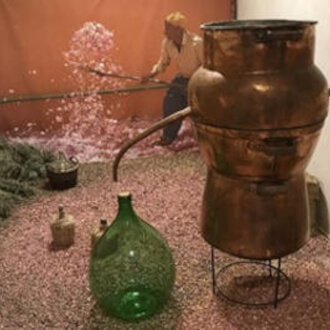 He was asked by Yves St Laurent to use his knowledge of plants and perfumes to create a perfume, Jardin Marjorelle Eau de Toilette.His company has developed many lovely internationally recognised perfumes Notably Soir de Marrakech.
2, Derb Chérif, Rue Diour Saboun, Marrakech.
+212 661-095352
Heritage Museum
Enter our Mouassine Fountain door and pass through the Souk to Rhaba Kadima, the Old Slave Square and walk through to the very end, the narrow bit, and turn left and the museum is on the right in this narrow charming street. If you were to continue down that street you will come out in The Big Square. The Palm Grove museum just outside Marrakech brings together in a setting of gardens the private art collection of the
Very close to Riad el Zohar. A charming 17th century Riad in the heart, of the souks with many high-quality artefacts on display, well displayed and explained in English. Wander round at your leisure and if you get a chance, chat to the owners who speak good English and love to speak about the old house of their family.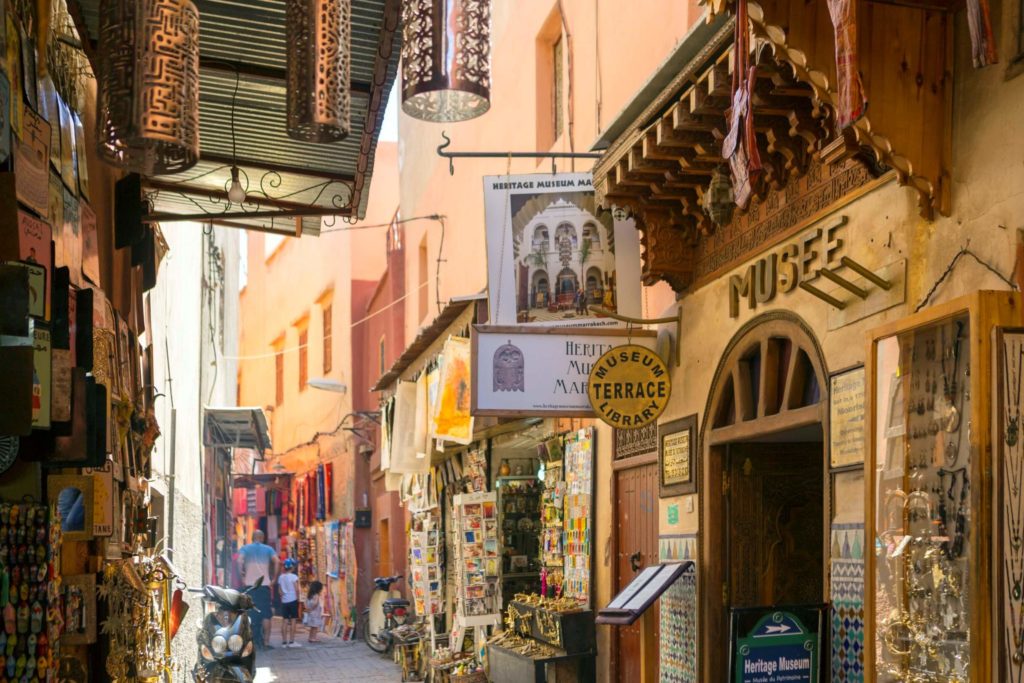 Musée de la Palmeraie
The Palm Grove museum is just outside Marrakech, about 10 minutes further than the Marjorelle Gardens, is set in a hectare of land which has been laid out in a series of small gardens by Professor of Botany, Abderrazak Benchaâbane. He collaborated with Yves St Laurent to bring the Majorelle Gardens back to life. There is a sizeable collection of Benchaâbane's private art collection and usually additional changing displays of modern Contemporary Artists.
Dar Tounsi, route de Fes, Ennakhil, 40060 Marrakech
+212661095352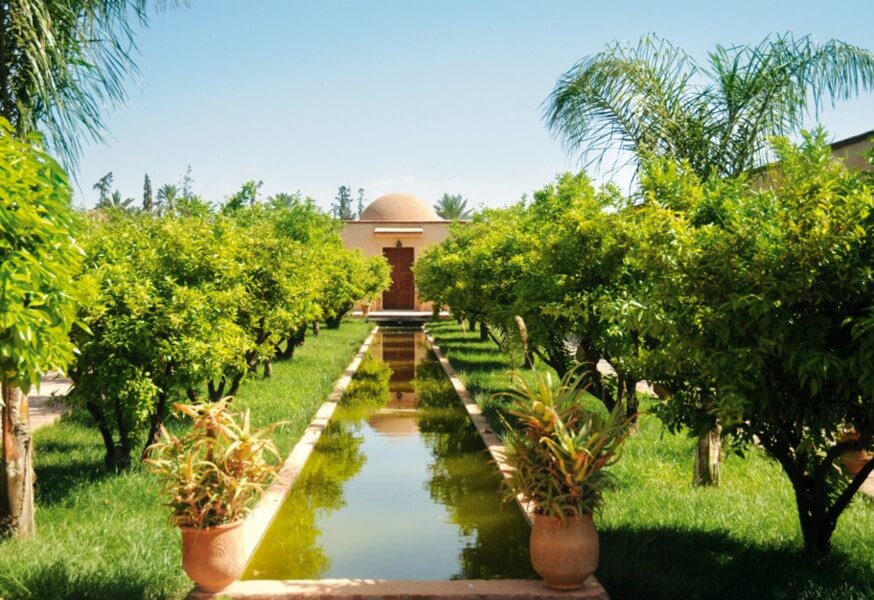 Anima Gardens
"A Wonderland of exotic gardens, gazebos, ponds and mystical artworks"

New York Times, USA
These wonderful gardens are situated about 30 minutes outside Marrakech. Designed by the multitalented André Heller one of the world's most influential & successful multi-media artists, a polymath extraordinaire. Some of our world travelling guests have rated this garden as 'the best they have ever visited'.
Not only do you have lush, exotic gardens but a riot of installations André Heller lives mainly in Vienna and Marrakech.

Anima Gardens
Douar Sbiti
Route d'Ourika,
Marrakech
+212 524 48 20 22
Water Civilisation Museum Mohammed VI
So worth a visit, not far out of Marrakech, very near the Palmeraie. The Berbers had water engineering skills at the time of the Romans and claim to have passed on their skills to them….as the Italians claim likewise 😉
They had great skills in constructing wells tapping into the water table, then constructing underground tunnels to move the water around the countryside and cities without the use of pumps. They understood water pressure related to size of pipes! Marrakech had communal fountains of pure fresh water from the Atlas Mountains when European Citizens were dying by the thousands from cholera. This museum shows the control & conservation of water ancient & modern. There are usually one or two exhibitions of great photography or art.

A l'entrée du Circuit de la Palmeraie – Route de Casablanca – Marrakech
0524 055 351
0524 313 075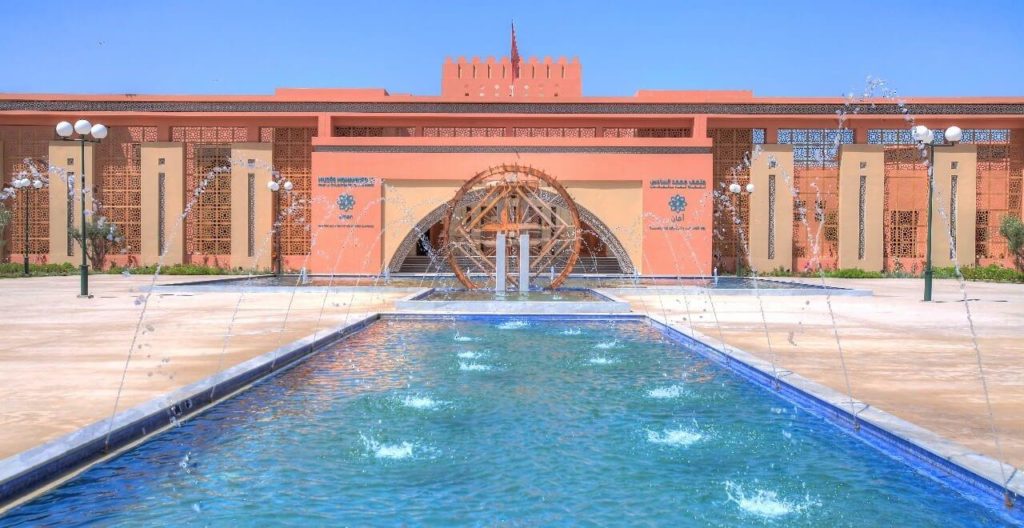 Musée de la Femme
The Women's Museum, the first of its kind in North Africa, is a tribute to Moroccan women – mothers, workers, artists, scientists, doctors, lawyers, leaders, et al. The spectrum of the woman's role in Moroccan life and historyThe Museum pays homage to all women: to the influential woman who who has become famous and to the anonymous housewife.
It is situated just a few minutes' walk from Riad el Zohar, near Le Jardin Restaurant.
Souk Jeld، 19 Route Sidi Abdelaziz, Marrakech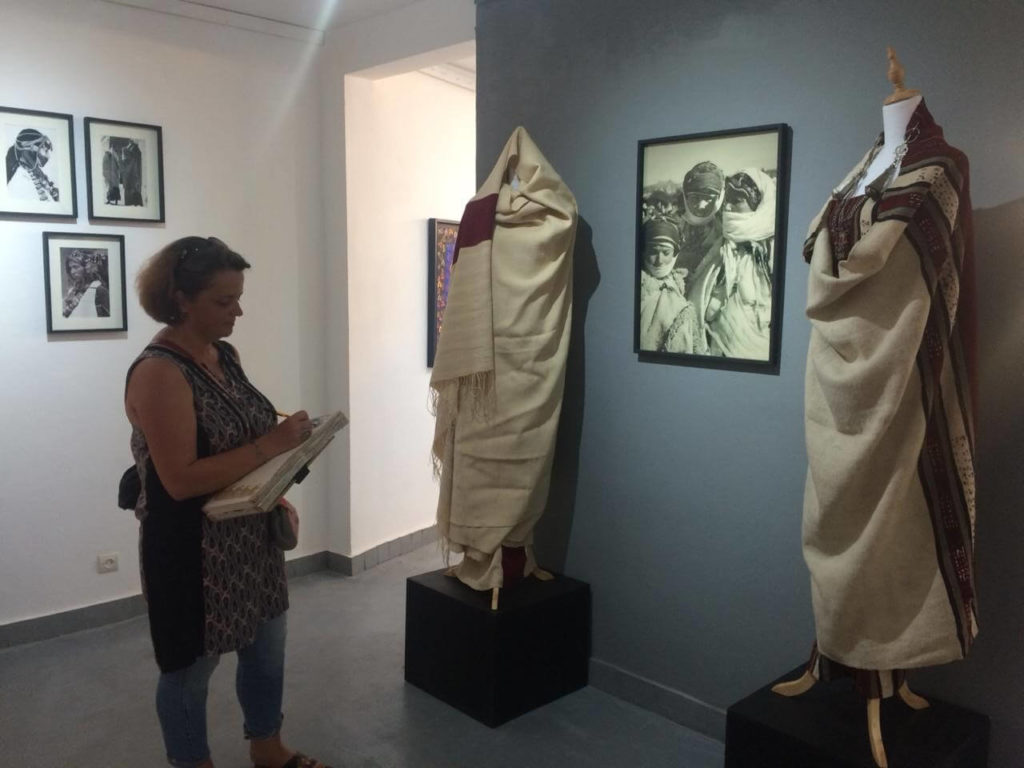 Le Musée Orientaliste de Marrakech
This wonderful little museum is set in a 17th century riad and well worth dropping off the main route for a peaceful and delightful visit. Divert when Visiting the Photo Museum or Ben Youssef Medersa. Better still, lunch in one of our very favourite restaurants, the Trou au Mur and pop in just before or after. You will find a great collection of Orientalist art hung on the ancient walls plus a few artefacts. Relax on a very nice terrace too.
Kaat Benahid
Derb El Khamsi N ° 5
MARRAKECH
05244-47379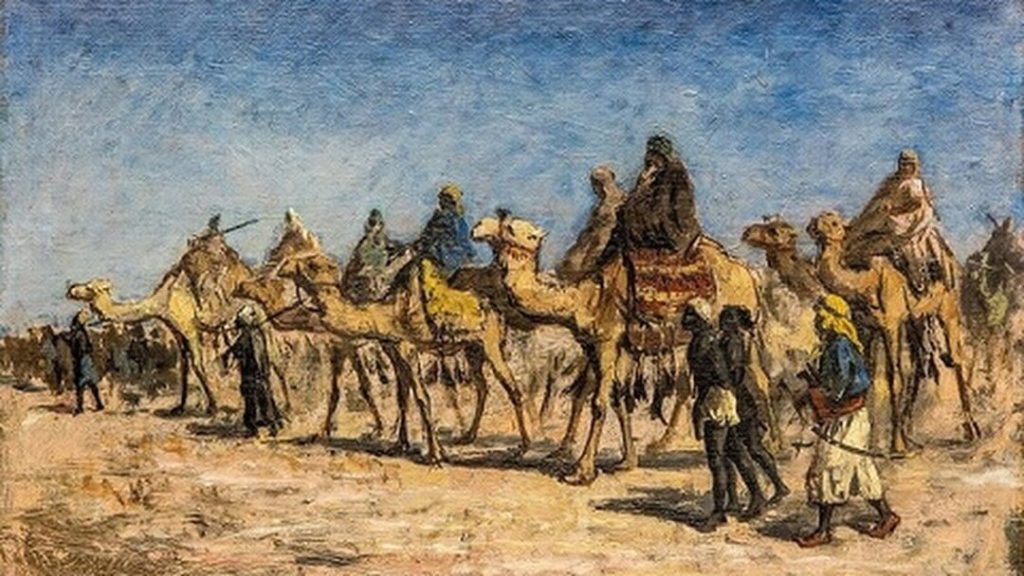 MACAAL. Musée d'Art Contemporain Africain Al Maaden
The Museum of African Contemporary Art Al Maaden (MACAAL), Marrakech is dedicated to the promotion of African contemporary art. The museum's permanent collection, consists of digital art, painting, sculpture and video, from Morocco and neighbouring countries.
There are also specialised exhibitions which change several times a year.

This is a remarkable place to see North African contemporary art and only about 15 minutes by taxi to the South of the Medina.
Al Maaden, Sidi Youssef Ben Ali, Marrakech
+212 6 76 92 44 92
Open Wednesday to Sunday
10am to 6pm
Not open Public Holidays, take care, Morocco has a lot of these!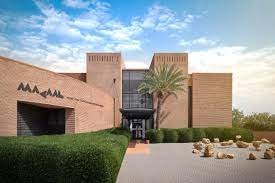 Musée Boucharouite
This is a small but interesting museum dedicated to showing a most unusual art form. The poorer people of Morocco could not afford the beautiful woven or knotted carpets that Morocco is rightfully so famous for. They invented a Do-It-Yourself replacement that they could easily make at home. Instead of using the warps and wefts of an expensive wooden loom they would take discarded flour sacks and using the coarse weave, use these as the base to knot scraps of colourful fabric through. It is difficult to find these in use in the more affluent cities today, but the weaving of these beautiful small jewels is still carried on amongst the Berbers in the Mountains.
In harder times, particularly after the World Wars this skill revived in Europe. Now, it is practiced as an art form.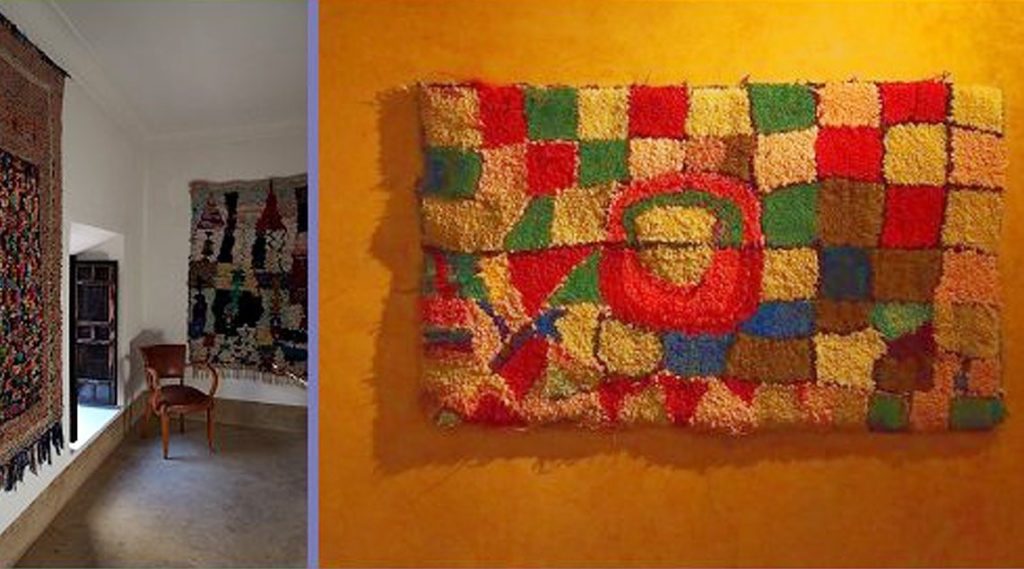 There are also a lot of photos and memorabilia from the King's grandfather, Mohammed 5th. The Monarch that took the kingdom into Independence from being a French Protectorate. (Code for Colony)
The owner, Monsieur Patrick, is often around and is passionate about his collection and happy to explain with huge enthusiasm.
Close to the Photographic Museum, Orientalist Museum, Ben Youssef Medersa and some great lunch places so, a great day out.
Palace Dar Si Said Museum
One of the best kept secret in the South of the City a few minutes' walk from the more popular and crowded Bahia Palace. I much prefer this closely related Palace. It was built by the brother of The Grand Vizier who built the Bahia Palace so there was a degree of Sibling Rivalry.

It is a complex building on several levels with beautiful ceilings, a huge first floor reception hall and a large central riad garden.

Now it is a Moroccan Carpet & Weaving Museum but still retains many artefacts and objects from its previous museum life. However, the true delight is in the architecture and the artisanal skills that built it, plus, not many tourists have found it so it is nicely quiet!
Azbest 107, derb El Cadi Maroc Marrakesh, Morocco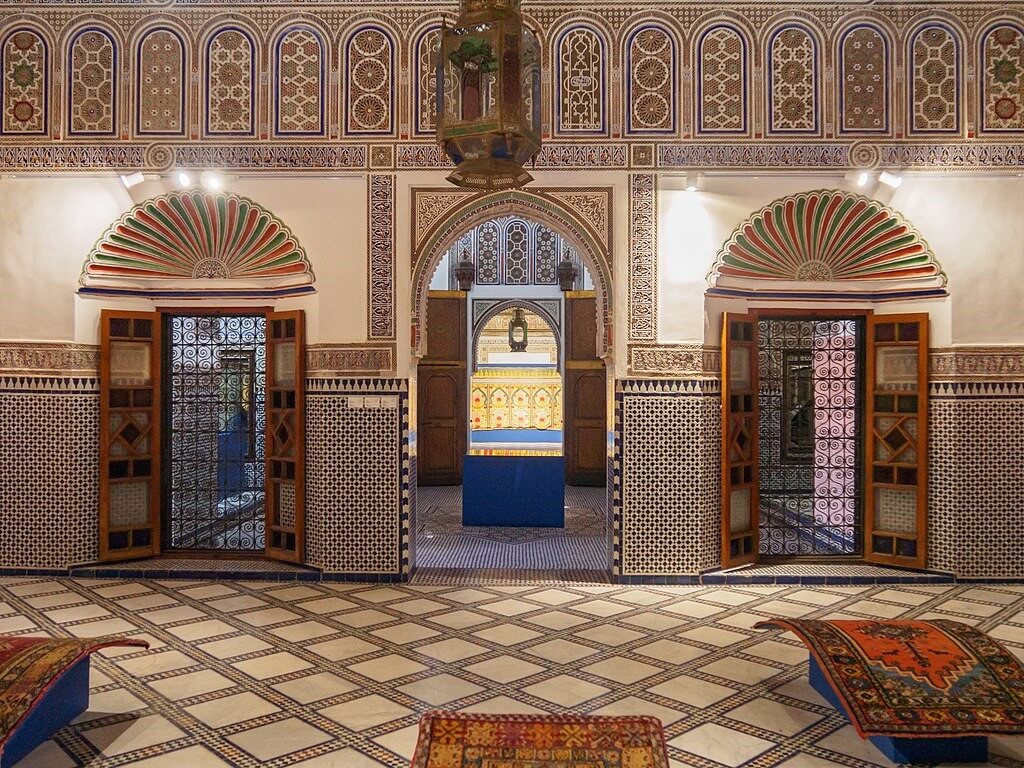 Musée Tiskiwin – Bert Flint Collection
The museum will take you on a journey through the Sahara, from Marrakech to Timbuktu. A huge collection put together by Dutchman Bert Flint, displaying artefacts, jewellery, clothing, carpets and decorations covering the Berbers of North West of Africa, particularly those in and around the Sahara.
A delight, in a rambling riad – or two? – Visitors are given an A4 booklet taking them from section to section but a real challenge to follow! I gave up and just wandered and enjoyed the visual feast.

Take care, shut for two hours at lunchtime. Just a 2-minute walk from Dar Si Said & then 5 minutes to Palace Bahia and Palace el Badii
Tiskiwin Museum
8, Rue de la Bahia
9 a.m. to 12:30 p.m. 2:30 p.m. to 6 p.m
Le Musée de Mouassine Musical Evenings
Our very good neighbour The Mouassine Museum hosts Musical Evenings Monday, Wednesday and Friday.
For only 60 Dirhams, less than £5, 6€ or 7$, a delightful evening of Moroccan Music, Gnawa, Berber, Arab. A different style each evening. There is usually a presentation by Patrick Manach. Great music in the 16th/17th century Guest House attached to its Riad- if you were wealthy you entertained your guests in a special small house and never in the midst of your family. There is the hospitality of Moroccan Mint Tea and often the opportunity to dine on a simple but delicious Tagine on the terrace at the end of the morning.

The Douiria (Little House) is 3 metres from our terrace at a lower level and we often chat to Patrick Manach early morning On a hot evening, our guests can usually enjoy the strains of the music drifting up through the building. The Gnawa Musicians love to sing and dance and many a time, after the session the gravitate to the terrace and just carry on playing for the sheer pleasure of their craft. A bonus for our guests!

During the day, the Museum is thoroughly worth a visit, where the best exhibit is the house itself. there is also a fine display of musical instruments and an exhibition of the art of the well known painter Abdelhay Mellakh who lived there for many years, and a set of original drawings by Delacroix
4, Derb El Hammam, Mouassine district
05 24 37 77 9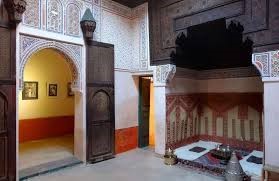 MdM, Maison du Dialogue
This is a Riad for the true afficionado of Marrakech.
This house belonged to the renowned and greatly respected Denise Masson, known for her work in translating the Koran.
It is a very typical Riad, restored to how it was, some of her furniture has been preserved, as has her bicycle! The libraries have been preserved together with her work. They say Maison Denise Masson is a museum for the curious!
The establishment is now run by the French Institute of Marrakech, and as a cultural centre, hosts exhibitions, concerts and conferences open to the public, hence the name 'House of Dialogue'
15 minutes' walk, Bab Doukla
Tuesday to Saturday 10 a.m. to 12 p.m. Then 3 p.m. to 6.30 p.m.
3, Derb Zemrane Telephone:
+212 (0) 524 44 69 30
The Berber Eco Museum in Tafza
This museum often features in our Day Excursions to the Mountains and Ourika Valley.

Sister Museum to The Photographic Museum and Mouassine Museum so great pedigree and great fun too.

At this point in writing we are not sure if this great little museum has survived the Pandemic. Check with us mid August onwards.