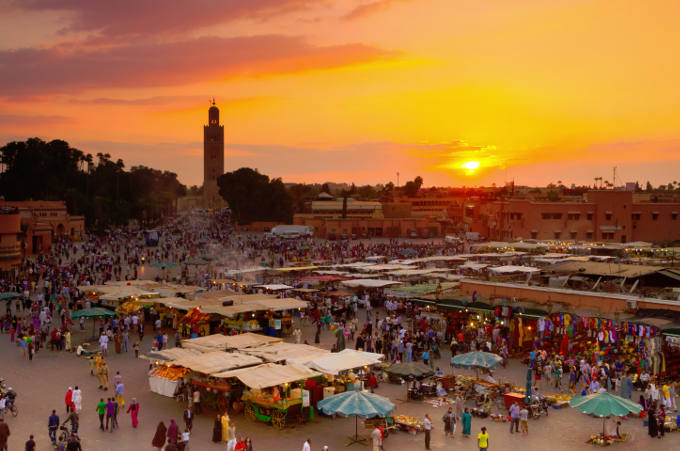 Essential Information
Currency: Dirham
Telephone dialling code: 00 212
Time difference: GMT +1 hour
Languages: The official languages of Morocco are Modern Standard Arabic and the Berber language but in practice in Marrakech you will generally encounter Moroccan Arabic and French as the most common languages
Marrakech has a huge range of monuments and impressive buildings to visit. The Koutoubia Mosque is one of the most famous symbols of the city, and you can walk around it for impressive views of the minaret. El Bahia Palace is a beautiful, ornate structure where it well worth taking a guided tour. History and culture fans should also see the El Badi Palace, a ruin of a once impressive building.
Make sure that you spend some time wandering in the sprawling souks. At these traditional markets you'll find virtually everything you can think of on sale from traditional Berber carpets and clothes to trinkets and jewellery. Remember that haggling is expected!
We are based only five or six minutes from the famous UNESCO-designated Jemaa el Fna Square and around a minute stroll from the lively marketplace of the souks: one of North Africa's largest market areas and a must-see during your stay. You might also enjoy a visit to a tannery, to see a different side of Marrakech life.
This is also a highly cultural city, home to many fantastic museums and art galleries. Be sure to visit the Maison de la Photographie to see an impressive collection of more than 8,000 photographs. Alternatively, head over to the David Bloch Gallery which showcases Moroccan, North African and Middle Eastern street artists. And don't miss the enchanting Majorelle Gardens, which offer a quiet respite from the busy streets.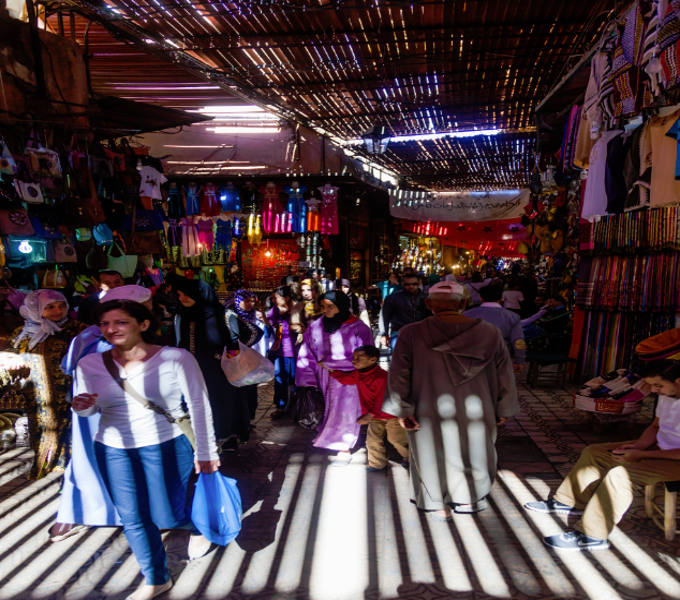 Marrakech has a hot semi-arid climate that makes it fantastic to visit almost any time of year. The summers do tend to get very hot (average daily highs can reach around 38°C or even into the low 40s) although it cools down markedly at night to pleasant temperatures. It remains warm through the winter and this can be an excellent time to visit, although at night it can get a little chilly.
The spring and autumn may be the best seasons to see Marrakech as the daytime temperatures never get too high while it never drops too much at night. It should be noted that they can be quite rainy and during the spring sandstorms are fairly common.
The city has its own international airport: Marrakech-Menara Airport which is based around 3 miles from the city. There are regular direct chartered flights from London and other UK airports, as well as all across Europe. The flight from London takes around 3 and a half hours.
It's worth noting that you'll need to fill out a form with your passport details on both arrival and departure. Citizens of the UK are entitled to 90 days visa free entry.
We can arrange airport transfers and meet you at the airport.
History of Marrakech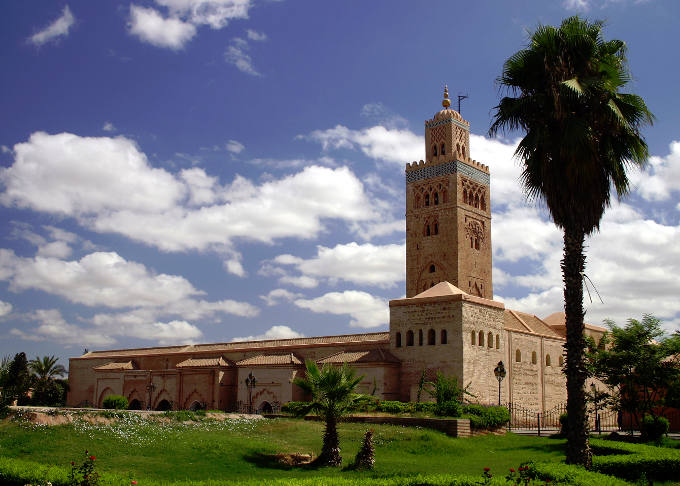 Marrakech is one of the one four former imperial cities that were built by Moroccan Berber empires. It had been inhabited by Berbers dating back to Neolithic times but the city was not founded until 1062 by the cousin of King Yusuf ibn Tashfin. The city's famous red walls were constructed by Ali ibn Yusuf across 1122 and 1123, which is how it got the nickname 'Red City'.
Through the centuries it has been decorated with impressive mosques, monuments and palaces, and it grew to be a hugely important trading city, with the largest traditional souk in Morocco. In recent times it has developed into one of Morocco's key tourist attractions and Marrakech is thriving city.
For further information be sure to check out our list of recommended places to eat in Marrakech.