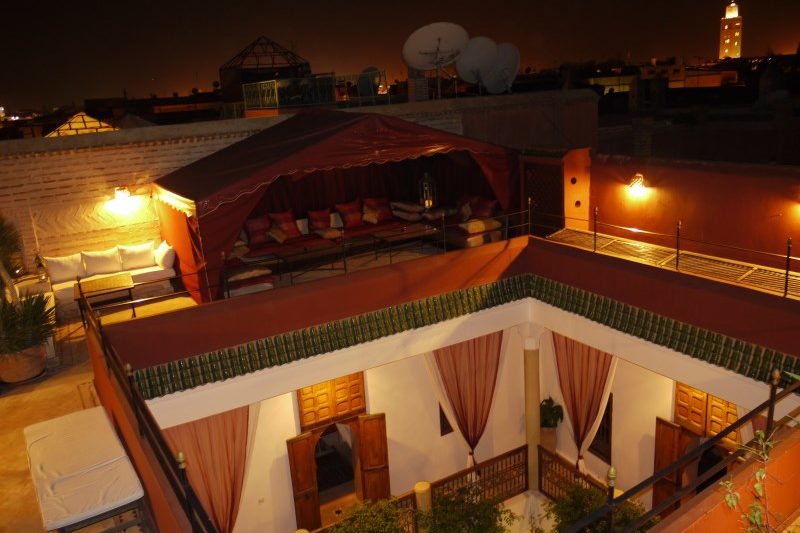 When you visit Morocco, one of the first things you'll consider is where to stay. If experiencing the culture and lifestyle of this area is important to you, there's no better option than a riad. A riad is a traditional guesthouse which is built around a central courtyard filled with plants and fountains – it's an Arabic word which translates to 'gardens' in English.
Riads are the most authentic accommodation option for travellers who want to dive into the culture and history of Morocco, and they can be found in the medinas of a city, such as Marrakech. In this guide, we'll explore what riads offer, what they look like and why you should choose to stay in one on your next visit to Morocco.
What do riads look like?
Riads were traditionally city bases for wealthier families, such as tradespeople or courtiers, and house several generations of a single family. Less wealthy people living in the medinas would live in dars or dourias. The design of these buildings can be traced back to Roman times, when it's believed that they were an adaptation of the classic Roman villa. The decorative elements of the riad and the designs of the gardens stem from Andalusian artisans.
Traditional riads are tall and narrow, with at least two storeys overlooking the courtyard. Each of these stories had open balconies to allow residents to enjoy the sunshine and the beautiful views of the gardens. Today, many riads are enclosed with glass while some still have open spaces exposed to the elements.
A traditional riad doesn't have exterior windows on the lower levels, with only inward facing rooms that keep the dust and heat of the city out. This setup also creates a more private residence – perfect for travellers who want to relax and unwind. The rooms and interior walls are often adorned with intricate wood carvings, traditional plasterwork and mosaics, embodying the culture of the area.
Where are riads typically located?
There are riads all over Morocco, but the most authentic riads are situated in the old medinas of Marrakech. Just a short walk from Riad El Zohar, you'll find the Jemma el-Fna – Marrakech's most popular square and one of the top attractions of the area. Riads are unassuming from the outside – designed to be this way to create a private and intimate space that's virtually hidden in plain sight – but the interiors of a riad are a different story, with rich decorations and furnishings.
What are the benefits of choosing a riad for my stay?
In any riad, you'll experience the historic elements and construction of the building that make it special. Highlights include balconies that overlook the gardens, roof terraces and unique décor that's evocative of Morocco. Riads were once mansions and palaces, which have been converted or renovated to what we know them as today, and so staying in a riad means staying in a piece of history of the area.
Riads offer many benefits for travellers, starting with a more authentic experience than a chain hotel can offer. Each riad is imbued with a sense of local history and they have an intimate ambiance, as they were once family homes. The personalised service and boutique atmosphere, along with the valuable insider information you can get from staff to make the most of your time here, make them a great environment for a relaxed stay. Riads today have been renovated to include the modern comforts we've come to expect from a property, making your time in a riad even more luxurious.
Features to look out for
All riads are different, so how do you choose where to stay? There are several things to look out for when you're choosing a riad. Firstly, many riads have a terrace where you can sip mint tea, enjoy the sunshine and relax away from the hustle and bustle of the city. It's also worth checking that the riad you choose has a restaurant on-site, where you can enjoy authentic Moroccan cuisine and traditional dishes – at the Riad El Zohar, we buy fresh produce every morning from the market so you can enjoy local dishes made from the freshest ingredients.
Something that sets our riad apart from others in the area is our plunge pool which is ideal for cooling off from the heat of the city and de-stressing after a long day of exploring. We also offer cookery classes where you can learn how to make traditional Moroccan dishes for yourself for when you return home, a wonderful experience that will provide you not only with lasting memories but skills you can use once your holiday is over.
Riads are the ideal place to really get to know Morocco, and with our riad located in the heart of the Mouassine district, you're in the perfect location to explore. Book your stay with us today or get in touch if you have any further questions.