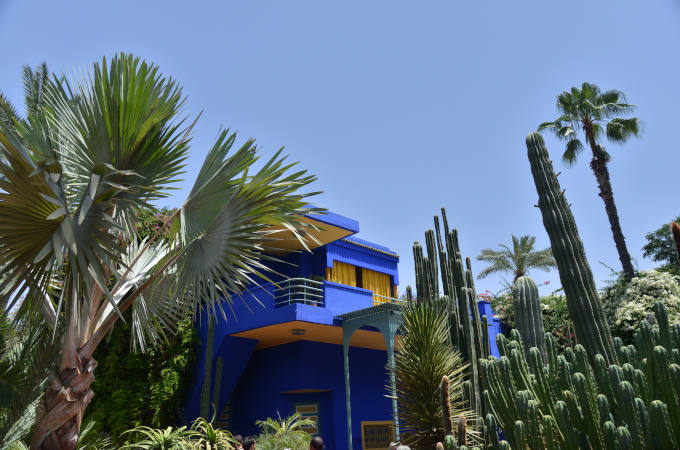 Marrakech is a city like no other. It is exotic, intoxicating and a melting pot of creative energy. It's not a case of whether to visit Marrakech, it's simply a case of when.
Getting lost in the souks, haggling over a Berber rug, sipping mint tea while watching the snake charmers in Djemma el-fna square, enjoying fabulous Moroccan cuisine and visiting some fascinating historical sites are all on offer in this mesmerising city. Surprisingly, there are some great peaceful spots to escape to when you feel you've reached sensory overload too.
So, first of all, when is the best time to visit Marrakech?
Spring-time is truly the best time to visit if you want to avoid the soaring temperatures of the summer months. Temperatures in the summer can hit a sweltering 45°C! Here at Riad El Zohar, we love spring-time the best.
Between March and May, the temperature is perfect, reaching an average high of 25°C. It's the kind of weather that beckons you outside to explore, and Marrakech has lots of wonders to discover.
During spring, you'll still need to wear sun cream and drink plenty of water, but wandering the rose-hued Medina you are much less likely to become overheated than in the summer.
If you do decide to visit Marrakech in the summer months (June to September), there are lots of sensible things you can do to keep cool, including keeping out of the sun and choosing accommodation that has air conditioning – all of the rooms in our Riad have reversible air conditioning to keep them cool in the summer and warm in the winter.
Peaceful spots to escape to in Marrakech
Making the most of the outdoors in spring is a must in Marrakech. Enjoying the hustle and bustle of the souks and soaking up the atmosphere in Djemma el-fna square should be at the top of your 'things to do in Marrakech' list.
There is so much to do in this vibrant city, it can be hard to know where to begin. One thing is for sure, it's easy to get sensory overload here, so it is good to know a tranquil oasis or two you can escape to. Set in the popular Mouassine district in the heart of the ancient Medina, Riad El Zohar offers a calm and tranquil atmosphere just 5 minutes' walk from the heart of the city.
Jardin Majorelle and Le Jardin Secret are both worth a visit and provide a welcome escape from the more dynamic experiences here.
Jardin Majorelle
One of the most visited places in Marrakech, Jardin Majorelle is a two-and-a-half-acre garden and a must-see attraction, especially in spring, when it's not too hot to spend time outside under sunny clear blue skies.
Set around a cobalt-blue 1930s villa, enchanting gardens are filled with trees, exotic plants, lots of cacti, burbling streams and pools filled with water lilies and lotus flowers.
The garden was developed over a period of 40 years (starting in 1923) by the late French Orientalist artist, Jacques Majorelle. Even if you are not into plants, the Musée Berbère housed here is worth a visit.
All in all, this is a calming retreat not to be missed.
Le Jardin Secret
Located to the North-West of the city, the entrance to Le Jardin Secret is easy to miss. Look out for Musée en plein air (open air museum). The gardens here date back to the 16th century. Once dominated by a Palace, the building and gardens were destroyed after the Saadian dynasty. A new palace was built in 1934, but was later abandoned and the whole plot fell into disrepair. Between 2008 and 2016 the gardens were resurrected and were opened to the public in March 2016.
The exotic gardens here now have plants from all over the world. Water plays a dominant part in the gardens design, with pools and running water passages. Muslim tradition considers water a symbol of life and power.
Islamic architecture also features here, with two opposing pavilions (one houses a photography exhibition, the other is a centre teaching about the architecture), an unrestored hammam, and a tower offering a great view of the geometrically designed gardens from above (there's an extra charge to climb the tower).
The intricately tiled pathways, outstanding examples of Islamic art and architecture are as much worth seeing as the gardens themselves. Above all else this is a place providing a welcome sanctuary from the noise, mud and chaos of the walls beyond. Here you can enjoy the sound of running water, the tweeting of birds and a breather from the exciting yet sometimes overwhelming maze of the Medina.
If you are heading to Marrakech in spring and want to stay in the heart of Medina, contact us at Riad El Zohar. We guarantee a peaceful oasis in a beautiful location in one of the world's most amazing cities.