Marrakech provides a delightful assault on the senses and many who have visited here will agree it is probably one of the most evocative places in the world. The hum of haggling voices, the call to prayer, the explosions of colour and the wonderful aromatic smells wafting from the numerous street stalls, cafes and restaurants are quite simply intoxicating.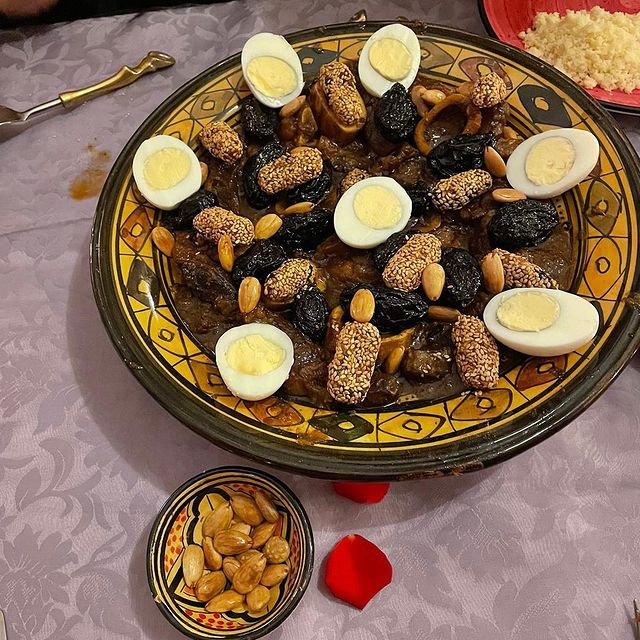 At the Riad El Zohar we celebrate traditional Moroccan cuisine and we are delighted to offer a wide range of local delicacies and homecooked dishes in the courtyard or in one of our saloons. We ask that you book in advance so we can use only the freshest ingredients. We also know all of the best places to eat in the Medina and further afield.
We would love to see you at the Riad El Zohar for our informal cookery lessons, which include a trip to the market to buy produce, hands on preparation of a traditional two-course Moroccan meal, and of course you get to eat the fruits of your labour at a candlelit dinner in our lovely riad.
To get your taste buds tingling, here's our lowdown on the delicious food and dishes you might like to try in Marrakech during your stay.
Mint tea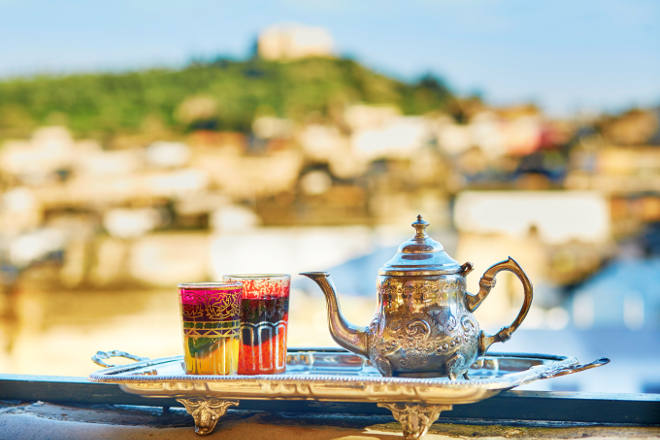 You'll find mint tea everywhere in Marrakech; it's the staple of Moroccan hospitality. It's nothing like the peppermint tea from teabags you may be partial to in the UK. Moroccan mint tea is made with black tea leaves, fresh mint, boiling water (obviously) and ridiculous amounts of sugar (don't tell your dentist!). The tea traditionally gets poured from a height so that it has a frothy head on it.
Bread
Crusty bread baked in wood-fired ovens is a staple in Morocco. There are lots of communal ovens in Marrakech and the smell of freshly baked bread will hit you as you walk around the medina. Try beghrir (pancakes that look a bit like crumpets), harsha (a buttery bread made from semolina, that looks a bit like an English muffin) and rghaif (a flaky square flat bread).
Snail soup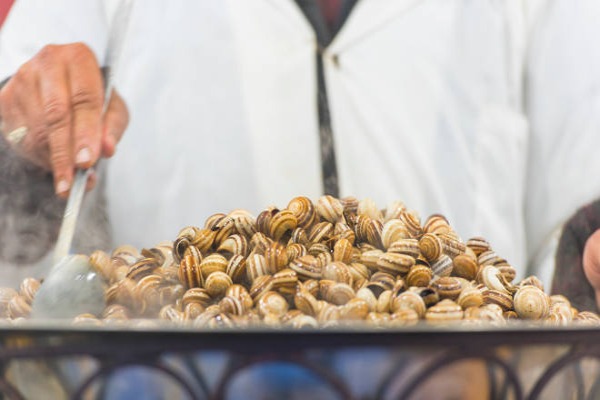 A street stall staple, you'll see many vats of snail soup steaming away as you wander around the medina. The snails are cooked slowly over a low heat in a peppery broth (babbouche) made with over 15 different spices. It's a delicacy that will surprise you. You simply must try this when you are in Marrakech.
Tehal
Essentially stuffed camel spleen which can be likened to an alternative take on sausage. The spleen is stuffed with ground beef, lamb or camel meat, olives, spices and fat and baked in a bread oven. Slices are served with bread.
Chicken B'stilla
One of Morocco's most unique dishes, chicken b'stilla is essentially a pie made from a combination of sweet and savoury ingredients. Chicken is cooked with spices and broth and shredded. The pie crust is similar to filo pastry, includes crushed almonds and is slightly sweet.
Harira
Often the dish that is served at the end of Ramadan, this dish is a soupy stew packed full of tomatoes, chickpeas. Lentils, spices and lamb.
Sheep head
Sheep's head steamed for around 5 hours is a traditional Moroccan favourite. The head is served in halves without the brain and is covered liberally with salt and cumin. The meat has lots of different textures, such as the tongue and the cheek.
Kefta tagine (Kefta mkaouara)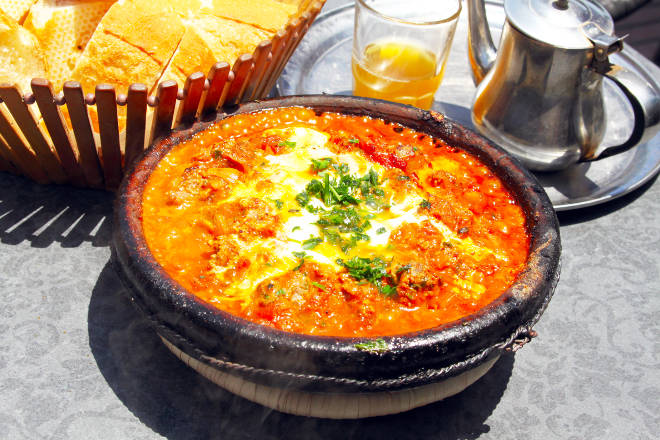 The tagine (also known as tangia) is probably one of the most well-known of Morocco's dishes, though the name refers to the type of urn-shaped terracotta pot the food is cooked in rather than the ingredients themselves. Try a kefta tagine, which consists of small meatballs (lamb or beef) cooked in a rich tomato and onion sauce. Just before serving eggs are cracked into the sauce.
Chebakia
A delicious sweet treat, Chebakia is a kind of cookie, which is fried before being coated in masses of honey or syrup. Buy from the street stalls.
Ma'qooda
Quite simply, ma'qooda are delicious potato fritters dipped in egg and deep fried. These are very moreish snacks.
Orange juice in Jemma el-Fna square
It may seem strange to have something as simple as orange juice on the list of foods to try in Marrakech, but there's nothing quite like a freshly squeezed orange juice from one of the stalls in Jemma el-Fna square. Morocco's oranges are famous across the world.
Orange cake at Nomad
You'll find the Nomad restaurant in the medina overlooking the Rahba Lakdima spice square (Place des Épices). With a rooftop terrace and intimate dining rooms this is one of our favourite spots for lunch. The orange cake here is sublime and not to be missed.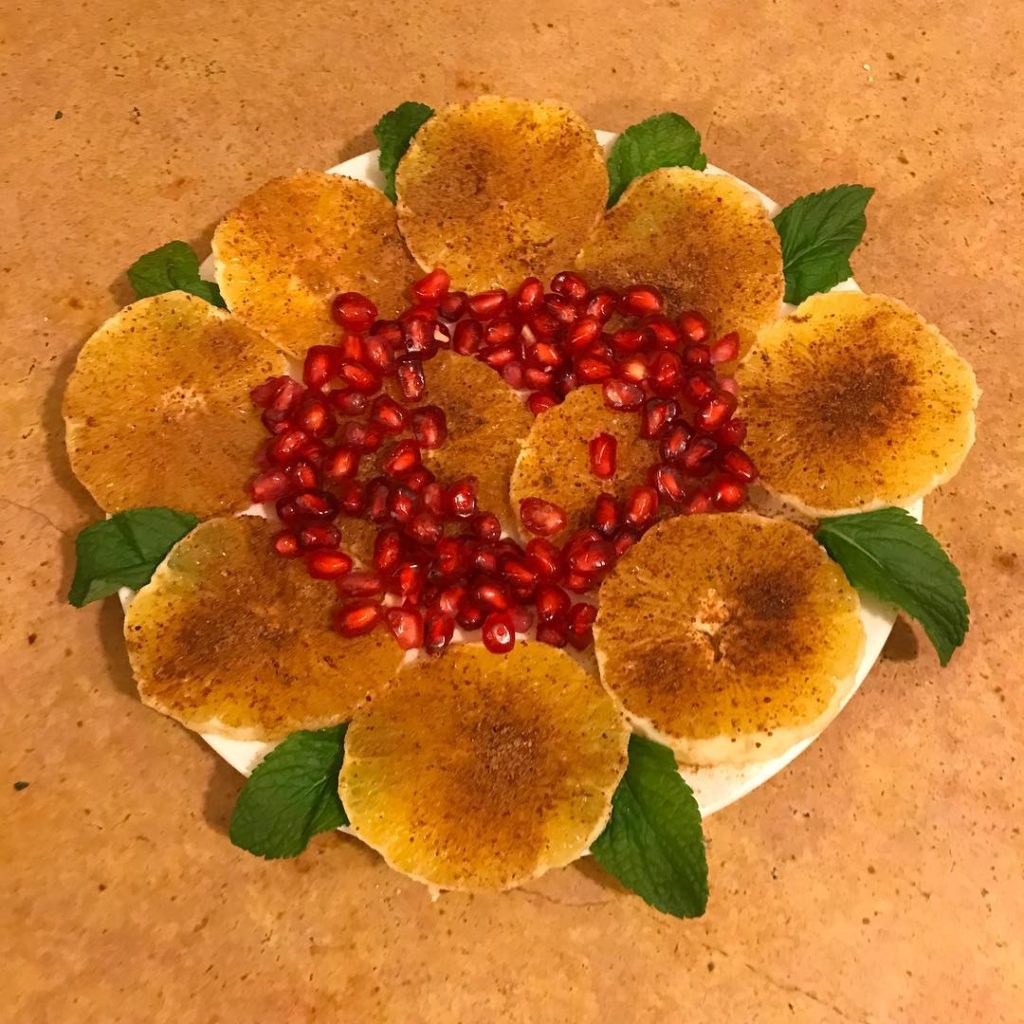 Happy eating in Marrakech. If there are any questions you'd like to ask about the food here, please get in touch.