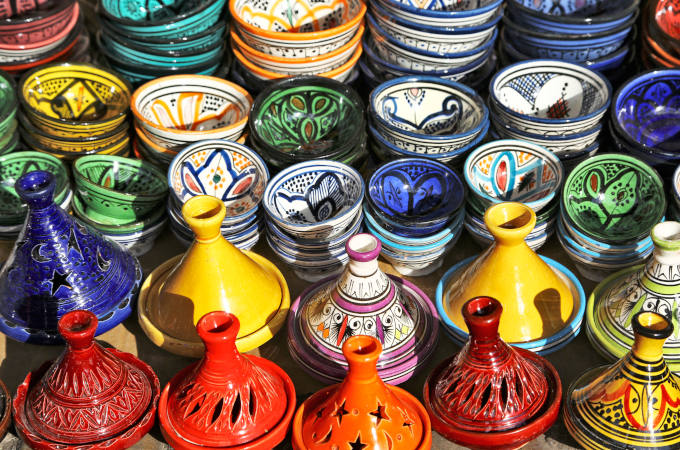 Marrakech is a shopper's paradise. This bright and beautiful city offers the best of both worlds to shoppers from the mysterious buzzing souks to the modern wide boulevards and designer shops in Gueliz. Marrakech is a fascinating place to explore and really is one of the greatest shopping cities in the world, offering everything from textiles, furnishings and ceramics to decorative objects and clothing.
As well as haggling in the souks, visitors can enjoy luxurious shopping in high-end boutiques and the brilliantly thought out concept stores of Gueliz. In addition, there's the industrial quarter, Sidi Ghanem, and while it isn't the most photogenic of places, it is the hub for many artists and craftspeople and is well worth a visit if you are serious about shopping.
The Medina Souks
In the vibrant heart of the Medina, stretching north from Jemaa el-Fnaa square, are the souks of Marrakech. Set in a labyrinth of narrow,winding alleys and streets, there are several souks selling everything from spices to leather goods, slippers, ceramics, lamps, clothing and much more.
At times the souks seem to blend into one, but they are technically different. Each street has its own identity and selling point. Rahba Kehdima, the apothecaries square, is well worth a visit for its multi-coloured spice stalls.
Creiee Berbere is the place to go for unique rugs, kilims and carpets. You'll also find Berber women here selling wool hats and mountain clothing.
If you visit one shop in the Medina it has to be Mustapha Blaoui. You'll find this gem of a store in the souks past the Dar el Bacha Palace. Beyond the plain wooden door, you'll find a delightful space with all manner of Moroccan goods for sale from Berber rugs to ceramics and beautiful lamps.
The Souks have over 3,000 stalls selling everything from brightly coloured glassware to leather goods, ethnic jewellery, rugs, brightly coloured kaftans, and all manner of trinkets.
The souks can feel overwhelming, so it's a good idea to acclimatise yourself in Jemaa el-Fnaa square before you spend hours exploring the souk's chaotic web of shops and market stalls. Expect to get lost … several times.
Gueliz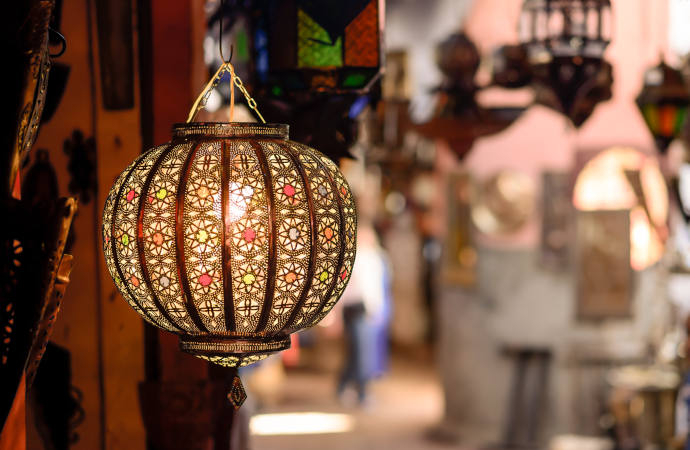 If you want a different shopping experience to haggling in the souks, head to Gueliz, the new part of Marrakech, which offers a completely different vibe to the traditional and chaotic Medina. Gueliz has European shops with familiar boutiques such as Mango and Zara and modern European-style buildings. You will find an interesting fusion of French and Moroccan architecture here.
The modern Gueliz region is renowned for its designer boutiques, specialty shops and galleries. One of the most famous galleries here is the Matisse Art Gallery, named after the famous French artist. The Marrakech Plaza at the centre is where you'll find up-market shops, cafes and beautiful fountains. It's a completely different feel to the souks in the Medina.
For the complete antithesis of the crowded souk, head to 33 Rue Majorelle where you'll find a chic, calm space over two floors selling modern takes on Moroccan crafts and designer clothing by over 90 different artisans.
Sidi Ghanem
Sidi Ghanem is the urban industrial zone of Marrakech (located 5 km from the Medina). Here you will find a plethora of artists,designers and craftspeople making and selling their wares from their workshops and showrooms. There are some great French eateries in the district too. Most shops here are closed on Saturday afternoons and Sundays.
Expect to find interesting men's and women's fashion,artisan lighting, perfumes, cosmetics, gorgeous pottery and more. This up and coming neighbourhood is the perfect place for a shopping excursion when you've reached sensory overload and had enough of the frenetic haggling in the souks.
Happy shopping in Marrakech. If you have something particular you are looking for, or would like to know more about what to see and do in Marrakech please ask us. We know Marrakech like the back of our hands.