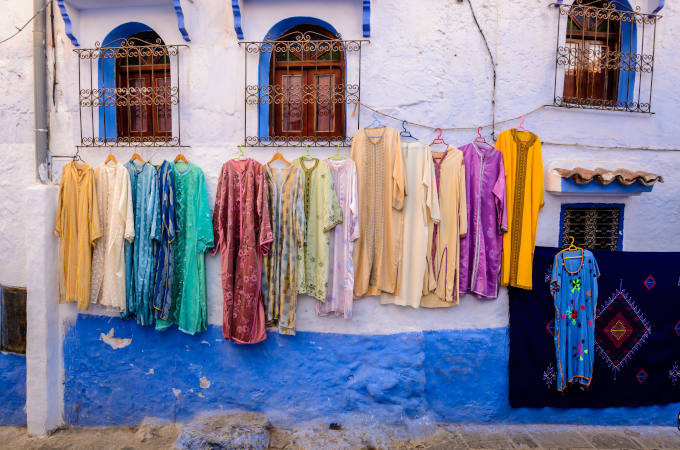 Packing for a trip to Marrakech requires careful consideration. Marrakech can see daytime temperatures climb to above 40°C, while winter evenings are decidedly chilly. Depending on what time of year you are visiting, you will need to adjust your wardrobe accordingly.
One other important factor to consider when choosing what to wear in Marrakech is in respecting the country's culture. Islam is the main religion in Morocco and the indigenous population tend to dress very modestly. There isn't an enforced dress code for tourists, but both men and women are advised to respect the culture and leave short, revealing clothes at home.
It is best to dress modestly when visiting Marrakech, even though you will see some tourists who are dressed in more revealing clothing. But, out of respect and to avoid hassle and unwelcome comments, dressing to fit in is recommended. It will make your stay much more pleasant.
Women in particular are advised to dress modestly, covering shoulders and legs, particularly above the knee. Men can get away with dressing in shorts and a t-shirt, but women are advised to cover up a bit more.
Here are a few recommendations on what to pack for your holiday in Marrakech.
Wardrobe must-haves for women travelling to Marrakech
Forget tiny shorts, strappy vests and bikinis (although you will be able to wear these inside most riads and hotels).
In terms of clothes, capri pants and a light cotton shirt are ideal for walking around the Medina, while long linen trousers and floaty shirts, maxi dresses, midi-length skirts (covering the knee), and kaftans are all perfect for other sightseeing. You'll need a dressy evening outfit if you plan to visit a fancy restaurant or nightclub.
Large light-cotton drapey scarves and pashminas are extremely versatile and can be wrapped around your shoulders or worn as a headscarf. Sarouel, a loose fit cotton trouser with elasticated waist and cuffs make perfect attire and can be paired with a loose cotton shirt or t-shirt.
It is OK to wear sandals, but in the Medina it's a good idea to wear closed-toe shoes as there's some animal excrement to contend with and the cobbled streets are quite jagged. The streets in the Medina are often wet and messy.
It is especially important to dress conservatively in the Medina, even more so if you are woman travelling alone. Limit displays of ostentatious jewellery or luxury handbags. Don't forget comfortable sandals, a sunhat and sunglasses.
In November rain is likely so if you are heading to Morocco at this time of year be sure to pack raincoats, an umbrella and waterproof shoes. It's very chilly at night during the winter, so at this time you will need some winter clothing and warm pyjamas.
Whatever you wear in Marrakech, never excessively reveal the body outside of the riad or hotel where you are staying. Cover décolletage, shoulders and thighs. It's not necessary for non-Muslim women to wear a hijab (a type of scarf covering the hair). If you are wearing jeans, it's a good idea to wear a longer, tunic style top to cover your bottom.
The best advice is to wear clothes that are cool, but allow you to blend in.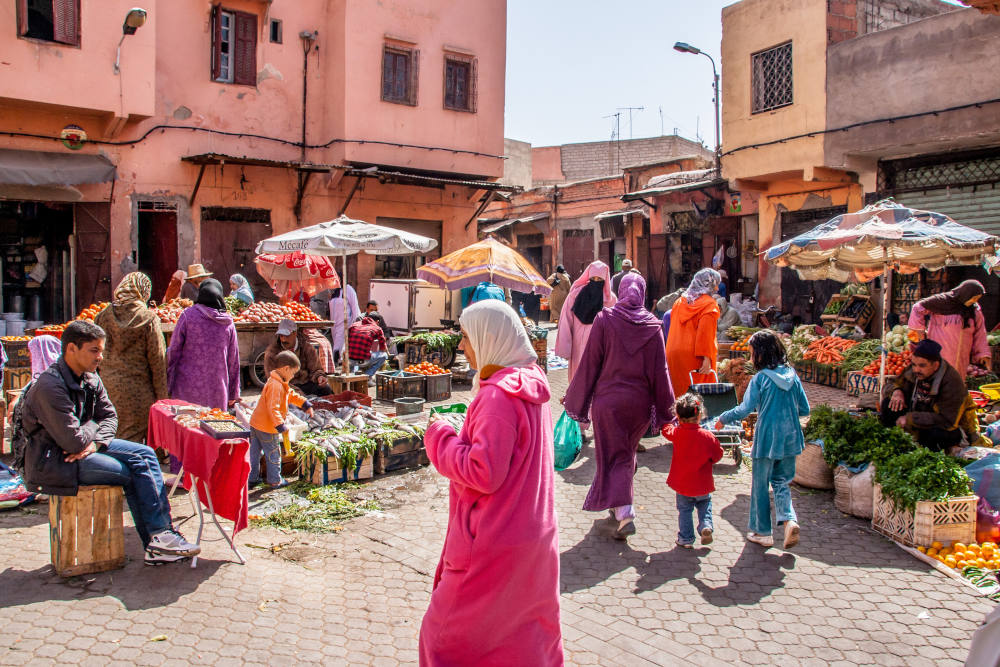 What to wear as a male tourist in Marrakech
It's pretty well-documented what women should wear when visiting Marrakech, but there's not much information on what men should wear. Men aren't under the same scrutiny as women though, as unfair as that may seem to those visiting from a western culture.
Most male tourists wear shorts and t-shirts or polo shirts and trainers or sandals by day, and jeans, linen trousers or chinos and shirts with closed shoes or trainers at night. A jacket or blazer is a good idea if you plan to eat out at an upmarket restaurant.
Definitely pack a couple of sweaters and a warm jacket if visiting Marrakech in the winter. A hardy pair of walking shoes is also a must if you plan on doing a lot of sightseeing.
If you would like any further advice on what to wear and where to stay in Marrakech, contact our friendly team at the Riad El Zohar.