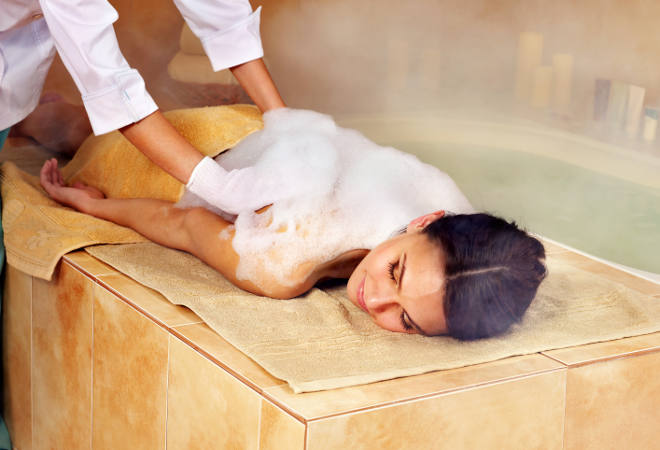 There are certain things you simply must do when you visit Marrakech, from wandering around and getting lost in the streets of the medina and haggling in the souks to eating flavourful street food and drinking sweet peppermint tea in Jemaa el-Fna square.
Marrakech is a bewitching historic city that will awaken your senses like no other place in the world, and it's hot. Very hot. Once you've been here you will know instinctively that taking a break from sensory overload and getting out of the heat for a few hours is essential. After an exhausting day sightseeing, there's no better way to unwind than paying a visit to one of the city's many hammams.
Read on to find out everything you need to know about visiting a hammam in Marrakech.
What exactly is a hammam?
For those who don't know, a hammam is a public steam bathhouse. Public baths are an integral part of life in Marrakech and are a weekly ritual for many locals. There are many hotels with spas that include a hammam, but the local hammams are a completely different experience you should definitely try.
What you need for the public bathhouse
For the traditional neighbourhood hammams, nothing is provided. Take anything you usually use when you bathe (shampoo, conditioner, soap, hairbrush or comb) plus a towel, flip flops and a change of clothes. At many hammams you can purchase shampoo and soap.
In the public bathhouses you'll also need to take a small bucket or jug to douse yourself in water (you can pick these up in the souk) and a kiis, which is a rough mitt used to exfoliate your skin. You may also want to purchase some rhassoul clay soap in the souk (sticky brown goo that is deeply detoxifying and works into a rich lather when rubbed onto wet skin). It's what the locals use.
You can take swim shorts or a bikini, but you'll stand out as all locals go nude. Many women take plastic mats to sit on, so you may also want to purchase one of these in the souk too.
If you are going to a spa or a private hammam, rather than the public bathhouse, just take your swim wear as everything else will be provided. Some private hammams provide disposable underwear.
The hammam routine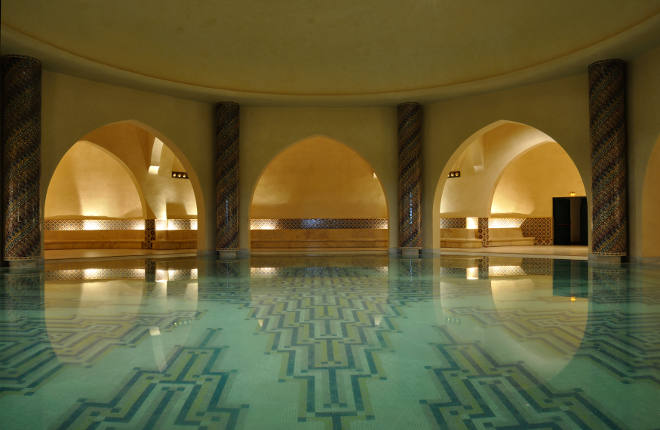 Hammams are segregated by gender and in the public bathhouses, men and women have separate days or times to bathe. There are also spas and hotel hammams where couples can enjoy some pampering together.
In the public hammams, the experience usually begins in a dry heated area where you relax and allow your pores to open, before entering a steam room. In the steam room work black olive soap into a lather and use your loofah mitt to give an intense body scrub. You can do this all yourself, but we would whole heartedly recommend you opt for the full bathhouse experience and hire an attendant to do all of the lathering and scrubbing. Be prepared for some heavy-duty scouring! You'll never feel as clean as after a full hammam experience!
In the private hammams treatments are often finished with a massage. In the more expensive hotel spas you can book a range of treatment options. Over the top luxury can be expensive, costing more than Dh1,000, whereas the insanely affordable public bathhouses will only set you back around Dh20.
Go with the flow
Rule number one when visiting a hammam in Marrakech is to go with the flow. Hammams, particularly the communal ones, can be a tad confusing with the language barrier, especially if you haven't visited one before. Don't stress. Simply follow the attendant and their gestures for instructions on what to do.
Cooling off in Marrakech
At Riad El Zohar we have lots of tranquil spaces to relax in and we have our own private courtyard pool where guests can take a dip and cool off. We would still recommend you experience a visit to one of the city's hammams.
We know the hammams in Marrakech like the back of our hands. So, whether you want to immerse yourself in an authentic basic hammam experience or you would prefer the height of luxury, we can point you to exactly the hammam you are looking for and we'll give you lots of tips to make sure your hammam experience is a truly enjoyable one.
Come and stay at the Riad El Zohar and we'll make sure your visit to Marrakech is everything you hoped for and more.