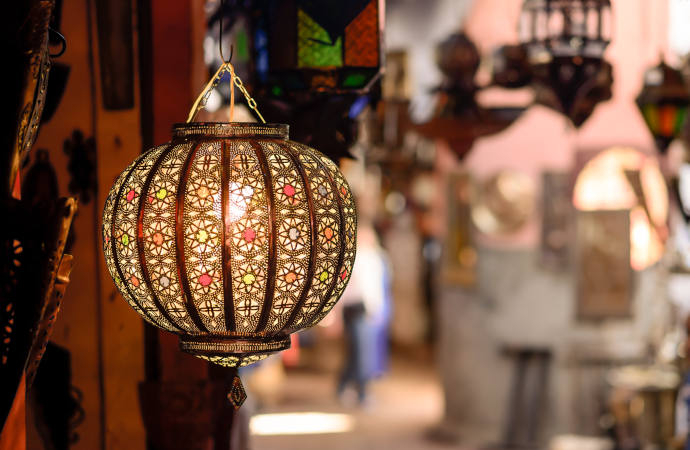 At the heart of Marrakech's ancient Medina is Djemaa el-Fna square. It's the place everyone heads to when they come to Marrakech and it's not hard to see why. Declared a 'Masterpiece of World Heritage' in 2001 by UNESCO, the square is one of the main cultural spaces in Marrakech and a symbol of the city since it was established back in the eleventh century.
There's nowhere in Morocco quite like Djemaa el-Fna and once you've been there, you'll most certainly want to go back for more. The square is home to a unique concentration of musicians, entertainers, snake charmers, medicine men, Berber storytellers, acrobats and even tooth-pullers! It is a stage for a whole host of food stalls, sellers and performances.
If you haven't visited the square before it can feel overwhelming, and as most of the crowds there are local citizens, you can initially feel like an outsider, but don't let that put you off. The locals are really friendly and you'll quickly find yourself mesmerised by the spectacles going on around you. Applause and a few dirhams will get you an encore.
Do however be aware of pickpockets and scam artists. Always a minority, but nevertheless they are there. All in all, don't let that put you off. With a sensible awareness you can enjoy everything that Djemaa el-Fna square has to offer.
It's a good idea to respect the culture and dress sensibly. Women in particular are advised to dress modestly, covering shoulders and legs, particularly above the knee. See more about what to wear in Marrakech in our previous blog post here.
To get the most out of your visit to Djemaa el-Fna square, here's a round-up of the things you can see and do there. The best time to visit is in the evening when the square really comes to life. Mornings are quiet, but from lunch-time onwards vendors start setting up their stalls and gradually through the afternoon the square starts to fill up.
Snake charmers
You will hear the snake charmers' wailing yet hypnotic flute melody before you see them. Watching them is mesmerising. You will need to pay the snake charmer to film them or take any pictures. Otherwise keep your distance. The snakes, by the way, aren't venomous so won't harm you.
Henna ladies
There are lots of local ladies with piping bags full of henna paste offering henna tattoos in Djemaa el-Fna. Some of the henna ladies are quite forthright and will grab you if you show any interest and start painting on your hands or arm before you agree to it, so be wary and only approach the henna tattooists if you do really want a henna tattoo.
Avoid synthetic black henna as it may contain harmful chemicals. Natural henna is reddish. The best place to get a henna tattoo is at the Henna Art Café, just a few minutes away from the square.
Fortune tellers
Fortune tellers sit under umbrellas with packs of fortune-telling cards. As you pass, they will call something out about your fate. Just walk on if you aren't interested and if you do dabble, negotiate a price first.
Acrobats
Troupes of young men in satin pantaloons perform cartwheels and an assortment of acrobatic tricks around the edge of the square, trying to entice passers-by to throw them a few coins. If you do stop and watch you'll be expected to contribute!
Musicians
As the sun sets, Berber musicians start to play and Gnaoua troupes sing.
Tooth pullers
A rather barbaric sight, but yes there are witch dentists in the square offering to pull teeth (locals eat a lot of sweets and don't have the best dental records!).
Water sellers
Water sellers in fringed hats wander the square banging their brass cups.
Orange juice stalls
The juice sellers are generally first on the scene during the day, setting up their carts with orange mountains with which to make the juice. The juice is delectable and a must-try when you visit.
This is just a selection of what you'll encounter when visiting Djemaa el-Fna. There is much more besides. Your senses will be bombarded, but Djemaa el-Fna is a magical place.
One last piece of advice DO NOT take photos without asking people's permission. Street entertainers, snake charmers etc. will expect you to pay for the privilege. Negotiate the amount before you snap.
If you are looking for beautiful accommodation within close walking distance of Djemaa el-Fna square, contact us at Riad El Zohar.