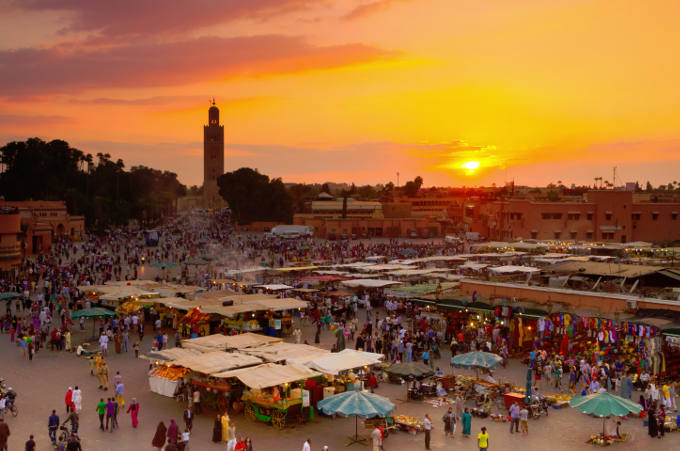 If you've never been to Marrakech before you are in for a wonderful surprise. Marrakech is perhaps one of the most interesting and provocative cities in the world. Steeped in history, Marrakech offers an exciting and exotic mixture of old and new.
It can feel overwhelming when you first arrive here, but as you settle in and become accustomed to the initial assault on your senses, Marrakech offers nourishing soup for the soul.
While you count down the days until you visit, read our essential facts about Marrakech that are useful to know.
About Marrakech
Marrakech is the fourth largest city in Morocco and the most important of the four former imperial cities (Casablanca, Fez and Tangier are the other ones). Marrakech is located just north of the Atlas Mountains. The city is divided into two parts – the ancient Medina and the modern European district, Guilez. The Medina is renowned for its red sandstone walls, which surround the ancient part of the city.
Popular attractions in the city are the El Badi Palace, the Bahia Palace, the souks and Djemaa el-Fna square, the Koutoubia Mosque, Musée Yves Saint Laurent, the Saadian Tombs, Le Jardin Secret, Jardin Majorelle, the Berber Museum, Maison de la Photagraphie, and Ben Youssef Madrasa. Also, if you can stand the smell, it's worth visiting the tanneries. Visiting a traditional hammam while in Marrakech is a must.
One of our insider tips is to time your visit to Ben Youssef Madrasa in the late afternoon when the tour groups have all gone. It's at this time that the lighting here is at its best, showcasing the outstanding beauty of the Hispano-Moresque architecture.
Time
The time difference between Marrakech and the UK is + 1 hour.
Language
Languages spoken in Marrakech are Darija (Moroccan Arabic), French and Tashelhit (Berber). Many locals also speak basic English.
Currency
The currency in Marrakech and throughout Morocco is the Moroccan Dirham (MAD), which is made up of centimes. The Dirham is a closed currency which means you will need to exchange your British pounds once you arrive in Morocco. You can exchange your British Sterling notes to Dirhams at a Bureau de Change in the airport, at a bank or at most hotels.
Getting to Marrakech
Most people arrive in Marrakech from the UK via a flight from London. The flight time from London is between three and a half and four hours.
Marrakech Menara Airport (RAK) is the main gateway to Marrakech and is located 5 kilometres from Marrakech city centre. The airport serves flights to and from Europe, Northern Africa and other Arab nations in the Middle East.
To get from the airport to the Riad El Zohar in the ancient Medina you will need to take a taxi or shuttle bus. Remember our Riad is in a pedestrianised part of the city. If you are staying with us, we can organise a car from the airport to take you to a transfer point where one of our porters can meet you and guide you to the Riad, whilst transporting your luggage on a handcart.
Getting around the city
Most of the time you spend in Marrakech will be done wandering around on foot. Much of the ancient Medina is pedestrianised (though you'll still see lots of mopeds and donkey-drawn carts). Be careful to get out of the way of mopeds as they won't be dodging you.
Also, be sure to pack a decent pair of flat, comfortable shoes, and remember a hat, sunglasses and plenty of sun cream, especially during the hot summer months!
There may be some journeys you want to do by taxi. Make sure you have change (10 and 20 dhms). All journeys within the city and between the Medina and Guilez are usually less than 20 dhms, but at night the prices double.
Be aware that taxis are allowed to stop and pick up other guests on your journey. Compared to the UK taxis are cheap, so if your driver overcharges you, it's not always worth the bother arguing.
As in any city, a minority of taxi drivers will attempt to rip off tourists. Be clear about your destination as there are many similar sounding place names in and around the city. If you want to avoid misunderstandings with taxi drivers (common) and agree a taxi fare up front, we can organise any taxi for you. One of our staff can walk you to a taxi pick up point if necessary.
What to wear
While Marrakech is a reasonably liberal city in many ways, the Islamic culture means that the indigenous population dress modestly. Out of respect and to avoid hassle it's best if you do the same when you visit. Women in particular should avoid revealing clothing and endeavour to cover shoulders and knees. Find out more about what to wear in Marrakech in our previous blog post here.
If you have any questions about your visit to Marrakech, please contact us at Riad el Zohar. We look forward to welcoming you and making your stay in Marrakech an exciting one.