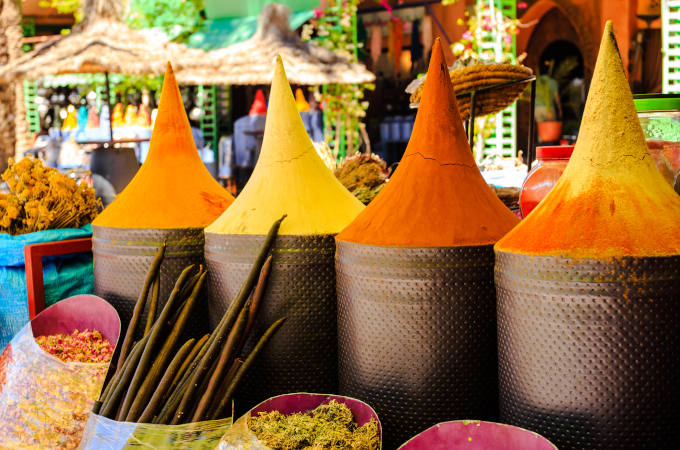 When you visit Marrakech, you will undoubtedly experience an impressive array of aromas wafting from the cafés, restaurants and food stalls around the ancient city, the souks and in Jemaa el-Fnaa square.
There are an exciting range of spices used to flavour a range of authentic Moroccan dishes, all of which you will find in abundance in the spice markets. In the souks you will find brilliantly coloured spices, petals, bark and leaves piled high.
A wander around the spice stalls in the souks is a must when you visit here. It's a wonderful feast for the senses. The array of spice smells will hit you as you draw near. Spices are a great thing to take home to recreate Moroccan dishes in your own home. It's the perfect way to evoke memories of this wonderful city.
In this blog I'll acquaint you with some of the spices we use in our cooking here at the Riad El Zohar. Furthermore, if you are a guest or taking a Cookery Lesson we will take you to a spice shop used by Moroccans and unknown to tourists where there is a huge selection of freshly gound spices at a fraction of the cost at tourist spice shops
Common spices used in Moroccan cuisine
The four most basic spices used in Moroccan cooking are cumin, black pepper, ginger and turmeric. Other common spices found in many dishes are saffron, paprika, cayenne, chilli (harissa), cinnamon, and sometimes white pepper. There are also some special blends of spices that are used extensively in Moroccan cooking.
Morocco has acquired an array of spices from Europe, the Middle East and Asia, as well as having its own spice trade.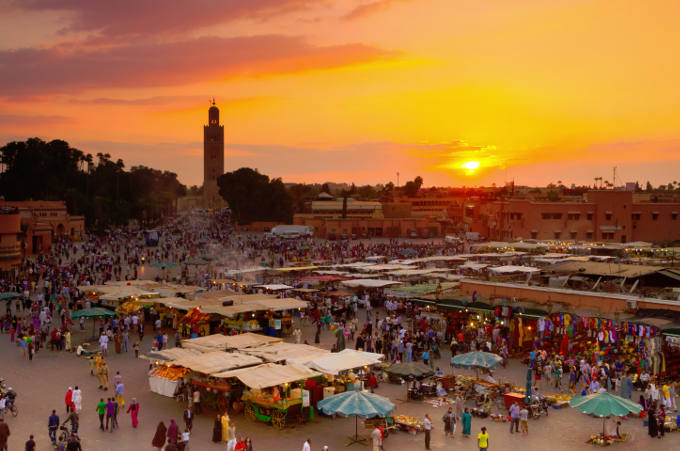 Ras El Hanout
Ras El Hanout (translated as 'head of the shop') is a vibrant spice blend made from many spices. Its name infers only the best spices are used in the blend, traditionally handed down from Father to Son So, what exactly is in the blend? Some blends have as many as 35 different spices in them, but commonly Ras El Hanout includes paprika, cardamom, cumin, clove, cinnamon, coriander, nutmeg, aniseed, dried ginger, peppercorn and turmeric. Whole spices, dried roots and leaves are ground together.
Depending on which stall you buy from, there may be a slightly different taste. All tend to have a characteristic bright red hue (from the paprika) and are warming rather than overly hot.
The spice blend is mostly used as a rub for meats or in a marinade, but is also sometimes added to soups and stews. This is a great spice to take back home for the barbecue. Cooking with it and smelling those heady spices will definitely transport you back to the narrow passageways of the souks.
Saffron
Saffron is a prized cooking spice and a natural medicinal ingredient. It is cultivated in the Siroua mountains of southern Morocco from the stamens of the crocus plant. It's value per gram is greater than gold!
Often used in tajines to give a nice colour and flavour to meat and vegetables, it is also used in desserts, milk puddings and teas. Many believe it has healing properties and in particular is used to calm spasms, toothache and menstrual cramps. We can't vouch for those health claims, but we can categorically say this is a spice that brings delicious flavour to many Moroccan dishes.
Saffron is expensive to buy all over the world, but is much more affordable in Morocco. It's well worth stocking up on some threads to take home. Beware, as with other countries,  there are four types of counterfeit saffron in the tourist shops.
Saffron and Ras El Hanout aren't the only spices to stock up on when you visit Marrakech. Many dried and ground spices here can be bought in larger quantities and much more cheaply than in western supermarkets. Stock up on ginger, paprika, cumin, turmeric, , cinnamon, coriander,  chilli, peeper, saffron and more.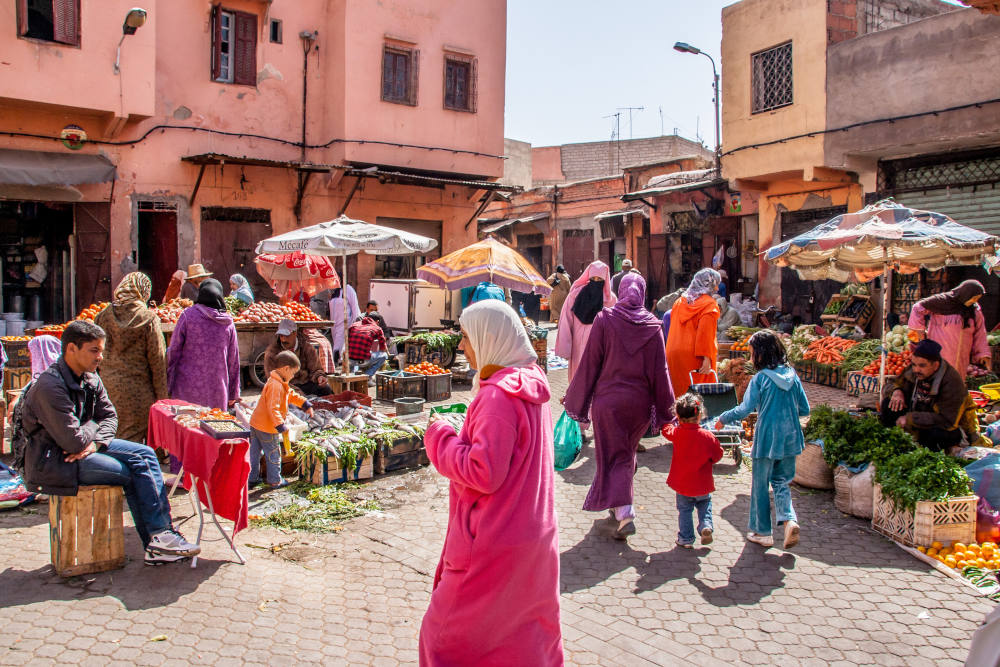 We love to share our knowledge of authentic Moroccan cuisine. Stay with us and book a cookery lesson to prepare a two-course Moroccan meal. Our informal lessons begin with a trip to the market and culminate in a delicious dinner for you to enjoy. See more about our cookery lessons here. For more information on the local delicacies and must-try dishes of Marrakech, see our previous blog post here.