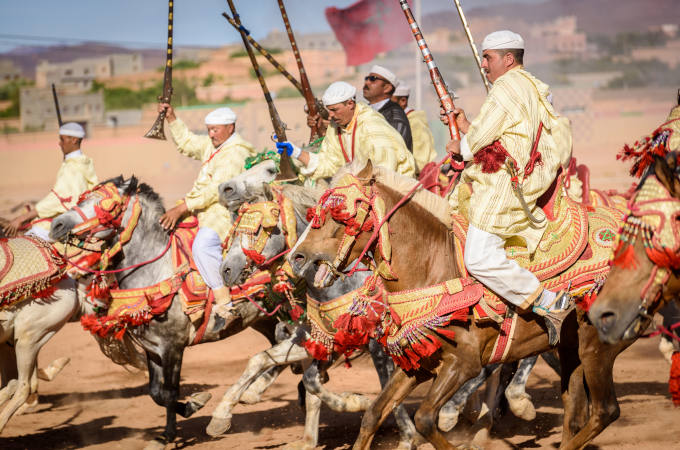 Marrakech is a stunning place to visit all-year round, but the summer is a particularly great time to go. Not only do the streets fill with a mixture of locals and tourists alike, but the city bursts into life under the heat of the sun. It really is pure bliss.
Coupled with that comes a number of cultural events that take place throughout the summer months. From a national tradition celebrating Morocco's king's accession to the throne, to a festival which is fast becoming North Africa's leading music event, here are four 'not-to-be-missed' events to pencil into your diary.
Popular Arts Festival (2nd Jul – 6th Jul)
Marrakech's Popular Arts Festival attracts a wide variety of entertainers and artists from across the globe. Taking place at the beginning of July, shortly after the Essaouira Gnaoua and World Music Festival has finished, the event features musicians, dancers, fortune-tellers, acting troupes, snake charmers, fire swallowers and more.
The main attractions take place in both Djemma el Fna and the ruins of 16th century El Badi Palace. You won't want to miss the Fantasia event either, where huge crowds of traditionally dressed locals assemble to watch a touring troupe of magnificently robed horsemen ride at full pelt, before firing their muskets all as one. Watching this event tends to confuse many tourists, but Moroccan locals understand the tradition like the back of their hand, and will show their pleasure accordingly.
Throne Day (30th Jul)
One of the more traditional events you can see during your time in Morocco is known as The Feast of the Throne, otherwise known as Throne Day. As you may have guessed, this day celebrates the crowning of the Moroccan king – His Majesty King Mohammed VI – with a public holiday and a large feast.
Many Moroccans will then line the streets later on in the evening, throwing parties and parades in the King's honour. The event then concludes with fireworks displays taking place in various locations throughout the city.
Eid Al Adha (11th Aug – 15th Aug)
Since Morocco is a Muslim country, Marrakech celebrates the Islamic holiday known as Eid al-Adha – 'the Feast of the Sacrifice'. This event honours Abraham's willingness to sacrifice his son to obey God's command, and is celebrated by locals sharing gifts and food with one another.
Many families get together for the event, using the occasion to pray and feast together. Marrakech tends to be quieter on these days because of this, and a lot of shops and restaurants often close during the event.
Oasis Festival (13th Sept – 15th Sept)
Marrakech is fast becoming the place to be for music festivals, and the Oasis Festival is one of the main reasons why. This three-day electronic festival boasts a line-up of Ibiza regulars, Moroccan DJs and more, giving attendees the perfect chance to dance in the summer sun. What's more, once festivalgoers are all danced out, they can enjoy surf trips, yoga sessions and swimming at the base of the Atlas Mountains.
The Oasis Festival really is a festival experience like no other, marking the ideal end to Marrakech's summer and, funnily enough, this blog post.
If you are looking for the perfect place to stay during your time in Marrakech, then look no further than Riad el Zohar. Our beautiful riad will give you a truly authentic Moroccan experience and provide you with the perfect place to relax after a day out in the Moroccan sun. Get in touch with us today for further information, or find out more about the riad itself here.